2020 is without a doubt, not the year any of us had planned however, as I look back on the past 12 months it has been heartening to witness our resilience and capacity to adapt to unparalleled circumstances and keep going.  Petrosys colleagues and clients have successfully migrated to a 'virtual' world and it is with pleasure that I note our ability to communicate and remain productive has only gone from strength to strength.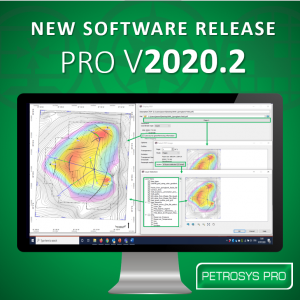 In the past 6 months, our team has worked hard to produce two major version releases for Petrosys PRO the latest of which, Petrosys PRO 2020.2 was released at the end of November and has been very well received. Stand out features include;
Well perforation display from Petrel – Development teams & reservoir engineers will benefit from a new Mapping/Display/Wells tab adding Downhole Data to their maps;
Raster tracking – allowing users to track lines on an underlying image, thus making the digitizing of contours, faults, and other liner features from scanned or published map images a lot more productive.
Interica OneView™ archiving integration – the direct link between OneView™ and Petrosys PRO allows for PRO projects catalogued by OneView to be archived directly from within Petrosys PRO.
The new version can be downloaded from the Petrosys client portal. Further highlights from the release can be read here or please contact your local office to speak to the team.
As the release of the Interica OneView archiving integration shows, the collaboration and teamwork between Petrosys and Interica continues to develop and thrive. We look forward to growing this relationship and taking advantage of shared resources and skillsets to be able to make more exciting announcements for client benefit like this as we move into 2021. To find out more about Interica please visit, www.interica.com

At the end of 2019, Petrosys was very pleased to bring seismic processing software GLOBEClaritas on board. It has been a very busy year for the GLOBEClartias team with significant improvements being made to the software to enhance the user experience – the 3rd major release under the Petrosys banner is due soon. Our resident GLOBEClaritas expert is on hand answering your questions, read more about importing velocity files in the latest edition of 'Ask Andy'. While you are there have a look around the new look and feel website, www.globeclaritas.com bringing GLOBEClaritas under the Petrosys umbrella.
PLDB Microsite; Similarly, we have also just launched a new microsite for the Petrosys prospects and leads database PLDB™.  The aim of the site is to provide our customers with a dedicated and comprehensive area, making it easy to find videos and technical articles providing more in-depth details about PLDB. Visit www.petrosys.com.au/pldb to learn more about what our team based stochastic resource management system has to offer and how existing clients can maximise use.
GPinfo are pleased to announce a new addition to the team, Francis Waina, who will be based out of Port Moresby in PNG. Find out more about Francis here and please join us in welcoming him.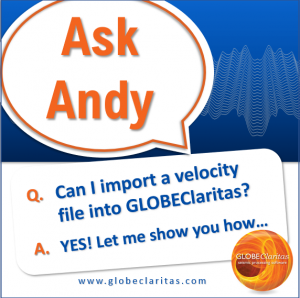 With so many of our users working in remote situations, it was important for us to ensure they were supported in every way possible and as such, we implemented the Petrosys work from home initiative' providing licenses to individuals who otherwise could not access the software. It was gratifying to see many people take up this offer. As part of this initiative, we have kept up a steady stream of videos, webinars, and software tips, as well as refreshing the client portal 'Learn Area' organizing, how to documents, videos, and workflows into easily accessible categories. Login for a look around – you might be surprised at the useful information you find.
Training and consulting services have also effectively made the transition from client facing to online and virtual sessions. In recent months the Petrosys training gurus around the world have run multiple virtual training courses with outstanding success – we will be launching dates in early 2021 for public virtual training courses across our different regions, please click here to register your interest.
Thank you to all of those who attended the Petrosys Virtual User Group meeting in September. The event was very well attended and the feedback provided is a great contribution to our development process to come. Thanks also to our colleagues at Interica and GLOBEClaritas for contributing to the sessions. If you would like to watch one of the recorded sessions (agenda here) please get in touch.
Paul Gibb recently presented at The Society for Petroleum Data Managers (SPDM) conference. Based on the work initiated by Petrosys Database Product Manager Brad Rymer, the talk was entitled, 'Can Elasticsearch help us access large oil and gas datasets more efficiently?'.  For those unable to attend the conference you can read more here, 'Elasticsearch for oil and gas datasets: Petrosys Intelligent Search'.
December's newsletter is bursting with great content once again. If you have a spare few minutes here are some very worthwhile articles;
As always the Gurus will be here to support you during the festive period for details on how to get in touch please read here. Note the recent changes to phone numbers for our North American offices.
There is no getting around that 2020 has been difficult both personally and professionally for many and as the end of a very challenging year approaches, I hope you manage to find time to relax and recharge, enjoying time where possible with family and friends.
On behalf of the Petrosys team, I'd like to wish all our clients, partners, and friends a very happy and safe festive period and a bright start to 2021.
We certainly all deserve it!
Scott Tidemann, Petrosys C.E.O.