Introduction
In the urgent race against climate change, Carbon Capture, Utilisation, and Storage (CCUS) stands out as a pioneering solution, aiming to reduce the amount of carbon dioxide (CO2) released into the atmosphere. At its core, CCS involves capturing CO2 emissions at their source, transporting, and then securely sequestering the CO2 deep underground. In the realm of carbon sequestration, having a precise, comprehensive, and accessible subsurface dataset is paramount. It aids in determining the capacity, integrity, and viability of potential storage sites, mitigating risks associated with CO2 leakage, and ensuring compliance with environmental regulations.
This white paper explores how Gulf Coast Sequestration (GCS), a prominent player in Carbon Sequestration, utilized the Petrosys dbMap Data Management Solution to address subsurface data challenges in CCS.
Gulf Coast Sequestration (GCS) – Revolutionizing Carbon Solutions
Gulf Coast Sequestration is a leader in CO2 sequestration solutions on the US Gulf Coast, developing a world-class hub in Southwest Louisiana. Located near major industrial areas, GCS is partnering with industry to securely capture and store CO2 deep underground using high-quality pore space. Committed to compliance and environmental stewardship, GCS coexists with the community while driving sustainable practices in the region.
The Ideal Partner: Petrosys and its dbMap® Data Management Solution
With over 40 years of experience developing solutions focusing on the subsurface, Petrosys was an obvious choice for GCS. Our extensive data management experience along with our time-tested and proven technology made us an ideal partner to address Gulf Coast Sequestration's need to attain a comprehensive database product for managing their subsurface records, which require rigorous quality control measures and data validation processes while ensuring data accuracy and reliability.
dbMap is a PPDM Gold Standard database providing the functionality and technology to help companies permit and operate underground CO2 injection wells.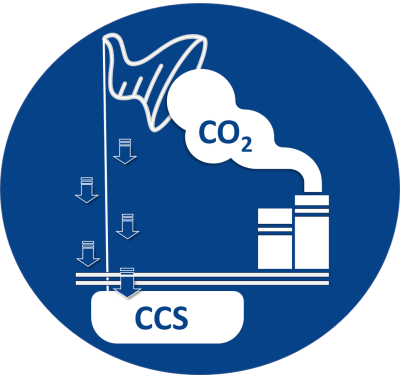 Data Complexity, Volume, and Quality Challenges
One of the key challenges faced by GCS was managing large volumes of diverse data types and formats from multiple sources throughout the project's lifecycle.  GCS required a robust geospatial database management product that ensured high data quality and accuracy for resolving inconsistent data points from various vendor sources, that would impact accurate analysis, decision-making, and regulatory reporting requirements.
Solution: dbMap® from Petrosys
To tackle these data-related challenges, GCS evaluated the dbMap® Data Management Solution from Petrosys. Within a short period of time, GCS found that dbMap offered a centralized geospatial repository for storing and organizing geological, geophysical, geochemical, and engineering data, along with other data types of data like lease and entitlement information that enabled a seamless integration of their datasets. The ability to link unstructured data documents, images and spreadsheets to wells, seismic surveys, and land rights information stored in the dbMap database through the dbMap Records Management module was an essential component of the solution. While dbMap's built-in seismic and well curve viewers allowed for unique functionality to quality control these critical data types.

Data Accessibility and Security Challenges
Collaborative CCUS projects involve multiple stakeholders, necessitating secure and controlled data access. Balancing accessibility with data security measures was crucial to protect sensitive information and foster efficient collaboration.
Solution:
Secure and Controlled Data Access
dbMap addressed Gulf Coast Sequestration's data accessibility and security concerns by offering encrypted networking, access controls, and data governance frameworks. This allows for secure and controlled access to data, enabling efficient data sharing and collaboration among stakeholders while safeguarding sensitive information. Organization of data in dbMap was customized based on GCS company preferences.
Ensuring Long-Term Data Integrity and Regulatory Compliance
CCUS projects require data retention that can last over many decades.  Being able to preserve data integrity is critical to meet ongoing monitoring, regulatory compliance, and reporting requirements. Ensuring accurate record-keeping is fundamental in fulfilling reporting obligations.
Solution: Sustainable Data Governance and Reporting with dbMap®
Addressing these challenges, dbMap® provided the ideal solution for GCS's long-term data management needs. It ensured the integrity, availability, and accessibility of data for their CCUS projects. dbMap's functionality allows for data preservation, consistency, and relevance to be maintained over time by providing accurate record-keeping and reporting associated with well permitting and storage operations. The capability of dbMap to link all data types in a geospatial format was a key feature recognized by Gulf Coast Sequestration.
The Outcome: Streamlined Data Management and Project Success
By leveraging the Petrosys dbMap® Data Management Solution, Gulf Coast Sequestration now has a holistic geospatial view of all of their structured and unstructured subsurface data. The functionality within the Petrosys dbMap's software allowed GCS to manage data complexity, volume, quality, accessibility, security, long-term preservation, and regulatory compliance that resulted in streamlined data management processes and enhanced data-driven decision-making.
The collaboration between Gulf Coast Sequestration and Petrosys highlights the partnerships Petrosys has built in the petrotechnical industry with clients over the past 40 years.  The dbMap database has now been shown to provide an appropriate solution for CCUS companies. Gulf Coast Sequestration is positioned to drive the next phase of best practices that support environmental responsibility by making significant strides in combating climate change and achieving sustainable goals.
"Effective subsurface data management plays a pivotal role in understanding and characterizing the subsurface, which is essential for the success of any sequestration project. Our aim was to amplify the potential of our data by consolidating, enhancing its discoverability, and ensuring its reliability. Utilizing dbMap facilitated this and granted us the capability to effortlessly interchange data across our varied subsurface mapping platforms. From a data management perspective, we are certainly charting the correct course."  – Samuel Orta, Gulf Coast Sequestration (GCS) 
"At Petrosys, we are proud to collaborate with Gulf Coast Sequestration (GCS) and provide our dbMap® Data Management Solution to help them overcome data challenges in Carbon Sequestration projects. Together, we are making a difference by streamlining data management, enhancing decision-making, and driving progress towards a more sustainable future." –  Suri Bhat, Petrosys CEO

Discover how the Petrosys dbMap Data Management Solution could help you overcome subsurface data challenges.