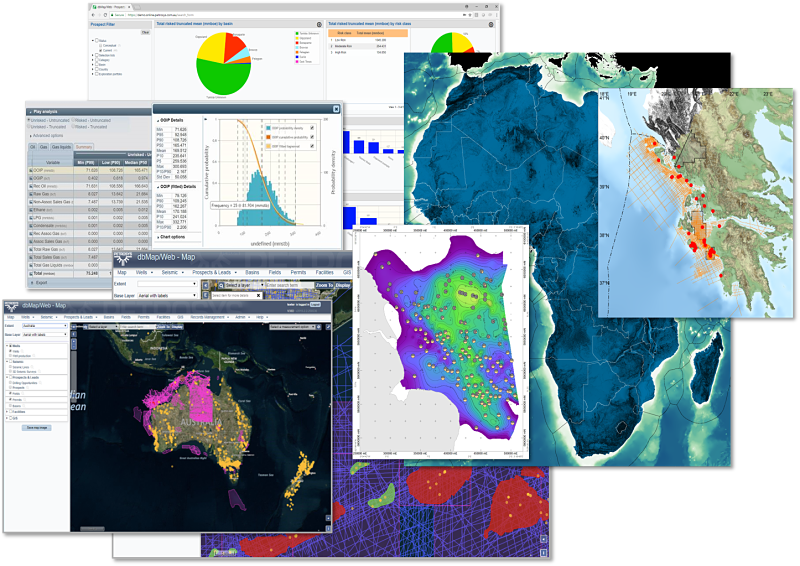 Who We Are
Established in 1984, Petrosys revolutionized the oil and gas industry with mapping, surface modeling, connectivity and data management products for geoscience professionals. Today, Petrosys is the industry leader – delivering direct connectivity with the E&P industry's most popular exploration, production and GIS data sources. Geoscientists, data managers and engineers at more than 300 sites worldwide use Petrosys software as an essential tool for basin and field interpretation, to enhance enterprise data management and help make better decisions.
In July 2017, Petrosys was acquired by Constellation Software Inc (TSX: CSU), Canada's largest software company. Building on our history of domain expertise, coupled with CSI's deep capabilities in the software industry, Petrosys continues to develop global-leading geoscience mapping and subsurface modeling software.
What We Do
Petrosys PRO produces high quality maps and surface models. It manages, edits, and analyses the underlying information including the specialized seismic, well and geoscience data used in the search for oil and gas. dbMap® data management strategies deliver a PPDM gold standard master data store which distributes data securely while integrating knowledge to improve discovery rates and reduce production costs. PLDB®  is a powerful enterprise solution for creating an organised, secure repository of your prospects, leads, plays and opportunities, built for industry standard petroleum risk assessment and portfolio management workflows.
Our core software products are complemented by the highly respected expert global support team, as well as the consulting and training services we provide ensuring our clients get the most from their software investment.
Our Team
Scott Tidemann
Chief Executive Officer

Scott joined the Petrosys Group in 2001 during which time he has worked in multiple locations across the globe, in multiple roles, including senior management, software product management and development, support and services, marketing and sales. He has extensive knowledge of the Petrosys Mapping and Data Management products, as well as the E&P technology industry.

He has a Bachelor of Arts specialising in geology and geography, along with Professional Management Program certification from the University of Adelaide with some 20+ years global experience in the E&P software and data management sector, having previously worked for a number of Schlumberger companies.

He has been involved in a wide range of projects, including the development of web based stochastic resource portfolio management ("Prospects & Leads") system; data management site audits to road map future system developments, and establishing a market for "tNavigator" reservoir simulation technology in the Pacific region.

Scott has extensive experience in a range of oil and gas exploration and production technology/service businesses, including software support, service delivery, training, data & information management, project implementation & management, software development, sales & marketing, and client account management.

Dr Volker Hirsinger
Vice President – Americas

Volker is the founder of the Petrosys Group (1984), the former Chief Executive Officer (until July, 2015), and currently is the Vice President responsible for the Group's US, Canadian, Central and Latin American operations based in Houston.

He holds a Bachelor of Science (Hons) and PhD in Structural Geology.

Volker has taken a central role in the development of Petrosys's software products as well as an active role in the Group's business growth and wider industry activities, including serving as a member of the Board of the US-based PPDM from 2010-13.

Prior to founding Petrosys, Dr Hirsinger held senior geoscience positions with Australian resource companies Western Mining, Woodside Petroleum, and Santos.

Kevin Ward
Vice President – Europe, Russia, and Africa

Kevin joined the Petrosys Group in 2011 as a Support Geoscientist and since then has held varied roles within the company including training coordinator and more recently business development for the Europe, Russia, and Africa regions.

Kevin holds a MSc GeoSEAD.

Mark Anderson
Chief Development Officer

Mark joined the Petrosys Group in its very early years (1989), starting as a "C developer" working on the then product line using HP Unix operating systems, progressing over the years with work on virtually all aspects of the Group's software developments, including transitioning to C++ development in the late 90's. His experience covers programming, system analysis and project manager roles.

He holds a Bachelor in Computer Science from the University of Adelaide.

Mark is currently responsible for the planning and execution of the development of Petrosys's current and prospective software product, working with his highly qualified and experienced technical team at the Group's Head Office in Adelaide.

Michael Brumby
Vice President – Middle East, Asia Pacific

Mike holds a Bachelor of Science (Hons) in Geophysics and has been with the Petrosys Group since 1992 in a range of sales, business development and support roles extending across Asia and the Middle East, as well as in Australia. He is currently located at our office in Perth.

He was formerly with Western Mining as a geoscientist in various exploration roles.
Our Partners
We strive to maintain excellent working relationships with key vendors and professional organisations in our industry to support our philosophy of maintaining good connectivity across the applications, systems, and work processes that Petroleum Exploration and Production demands.
Feel free to request more information on Petrosys partners or contact us about collaboration potential.