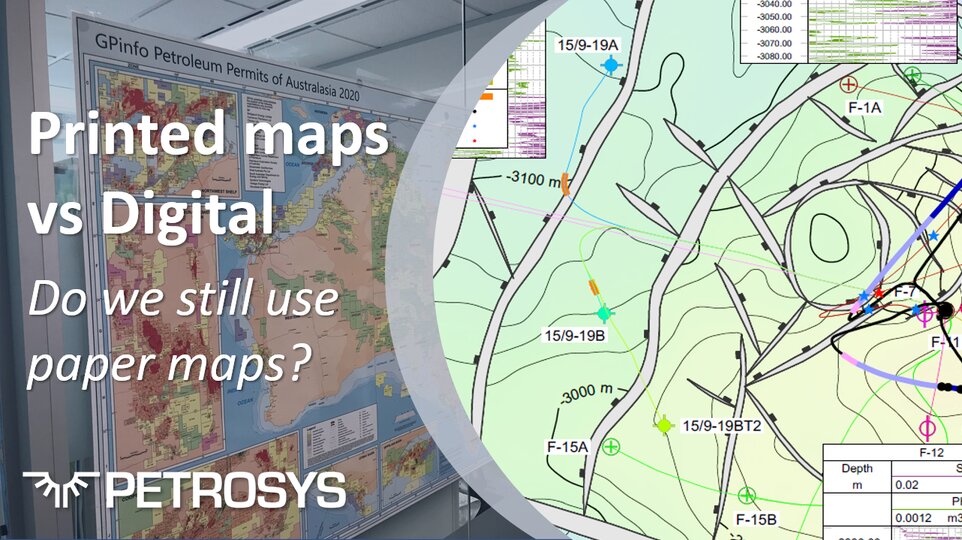 Printed Maps or Digital?
We live in the age of digitization where everything and anything we want to look at or research can be accessed on a screen. Whole libraries of information are available in digital format, whether you want to check the weather, current events, or find a well log from decades ago, the information is just a few clicks away, ready to be viewed in full technicolor on your screen of choice.
The way in which we view and interact with maps of all types and across all sectors of life and industry has changed significantly too. As the self-proclaimed 'Mapping Gurus', here at Petrosys, we have a clear interest in how our customers work with maps, which has recently raised the question – why do we need printed maps when digital maps are so readily available?
Like most things this is not a clear-cut question – it really depends on the purpose of the map and the person viewing it. For the typical individual in daily life, a smartphone, Google Maps, and GPS means we can travel from A to B with relative ease, but what about the geologist and geoscientist working in oil and gas?
How the use of maps has changed in oil companies
Maps were formerly the stalwarts of the printed page, however with the continuing speedy growth of technology, viewing any kind of map on the digital screen opens up access to more than just 2D imagery.
In years gone by you could walk into the office of an oil company and see map tables piled high with paper copies of all types of maps. These maps were the stock in trade and companies had entire print rooms specifically designed for the purpose of printing out the varying sizes and editions of the maps as required. We'll perhaps leave the intricacies of the correct method of folding maps for another discussion…but let's just say it could be an art-form in itself.
As digital technology has progressed, however, the need to print all these maps has diminished. The dynamic nature of digitization allows digital maps to be edited and displayed within short timeframes and made immediately available for quick distribution. More importantly, the amount of information that can be contained within one map file can be enormous.
Take for instance the Petrosys PRO layered pdf. The information stored in the layers means that one map can have multiple uses within an organization. For example, geoscientists and engineers in a development team can discuss a new drilling target with no need for expensive proprietary software, or even an internet connection.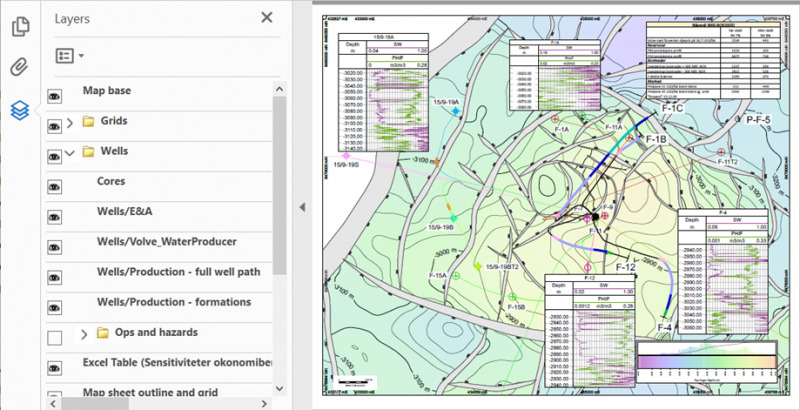 To see more pdf. layer maps from Petrosys visit, www.petrosysmaps.com
We also now no longer need to worry about data loss from printed maps – tools available in the Petrosys PRO spatial editor for example are able to convert images of maps into live surface and attribute maps. This facilitates the recovery of data from sources that may have preceded digital mapping or where the digital data management failed to keep up with document filing processes.
And yet, there is still a place for the printed map
The ease with which you can view, at a glance, the complete area of interest being worked on, printed at large scale right there on the office wall is undeniably a major draw. Being able to put a, correctly folded, map in a pocket without worrying about battery life is not to be taken for granted.
Produced annually by Petrosys sister company GPinfo, the Petroleum Permits Map of Australasia is a must have for many oil companies to this day. As the comments from just a few GPinfo customers prove, the printed map for some remains an invaluable tool for daily reference.
Copies of the 2020 GPinfo permit maps arrived this week and are already sprinkled around the office, including the boardroom and meeting rooms. The maps provide an excellent reference to petroleum permit and pipeline locations for Australia, New Zealand, and Papua New Guinea and are of a quality that Bridgeport is proud to support.
Barry Smith, Chief Technical Officer, Bridgeport Energy
The GPinfo Permits Map is a great product. It's something I refer to almost on a daily basis and of course, it is an extremely useful reference in a whole range of forums, including Joint Venture and Board meetings.
Neil Gibbins, Managing Director, Vintage Energy
GPinfo maps are always in Carnarvon offices and used daily. COVID meant many took them home as a point of reference. In conjunction with the GPinfo GIS database and email alerts on permit changes, GPinfo and its maps are an integral part of daily life at Carnarvon over previous years and we expect to continue this for many years to come.
Stephen Molyneux, Exploration Manager, Carnarvon Petroleum
GPinfo Permit Maps have been part of Finder's success since the company's beginnings. They are on the walls of everyone's office and continually remind us of the scale and potential of the Australian petroleum basins. Thanks, GPinfo.
Aaron Bond, Exploration Manager, Finder Energy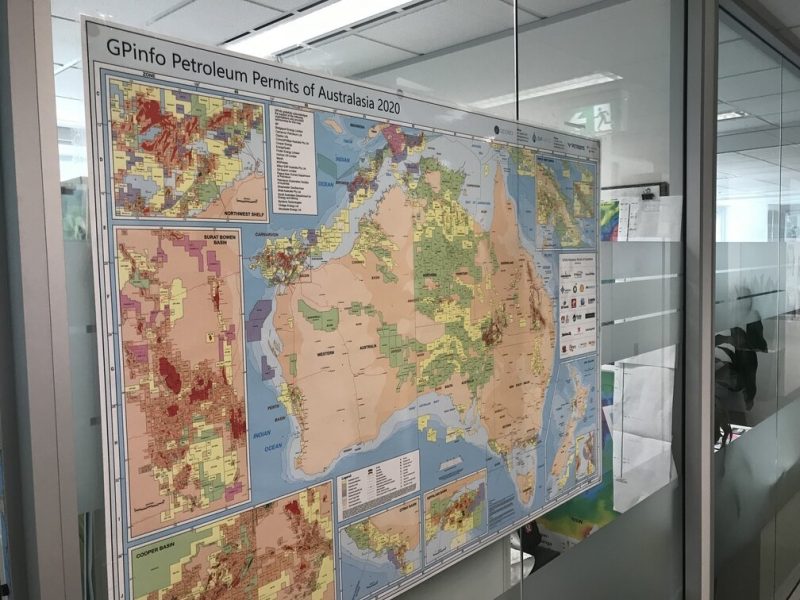 GPinfo Petroleum Permits Map of Australasia 2020, as displayed in the offices of Bridgeport Energy
To find out more about GPinfo visit, www.gpinfo.com.au
---
Get in touch
If you would like to know more about Petrosys PRO contact our team of mapping gurus.