The Petrosys PRO+ X Section tool is the next step in advanced visualisation making it easier for you to understand the relationships in your structure and achieve an accurate representation of the subsurface.
Fast and Easy: Create a line of section from an existing Petrosys PRO map.
More Powerful than Ever: View surfaces in the cross section before & after editing and re-gridding.
All your Data in One Place: Display data from 3rd party vendors and compare in cross section.
The story so far…
Discover more about the new X Section tool and how it fits into your technical workflow!
PETROSYS PRO+ Advanced Visualisation 
The best subsurface mapping tools in the industry plus the 3D Viewer and X Section tools!
We promised you the new and improved 3D Viewer was just the start of great things to come. PRO+ will bring together the existing 3D Viewer and the new X Section tool giving our customers access to full advanced visualisation.
X Sections in Petrosys PRO+ takes your mapping a step further
Readily interpret stratigraphic variation of reservoir, source, and sealing intervals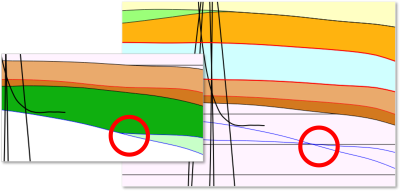 Identify errors of cross over, look for pinch out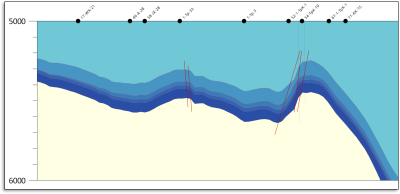 Delineate fault blocks and develop reservoir
The high quality output you expect
With the new X Section tool you can present and show well penetrations relative to structural features and export to various formats:
Raster,
PDF,
Scalable Vector Graphics (SVG) format