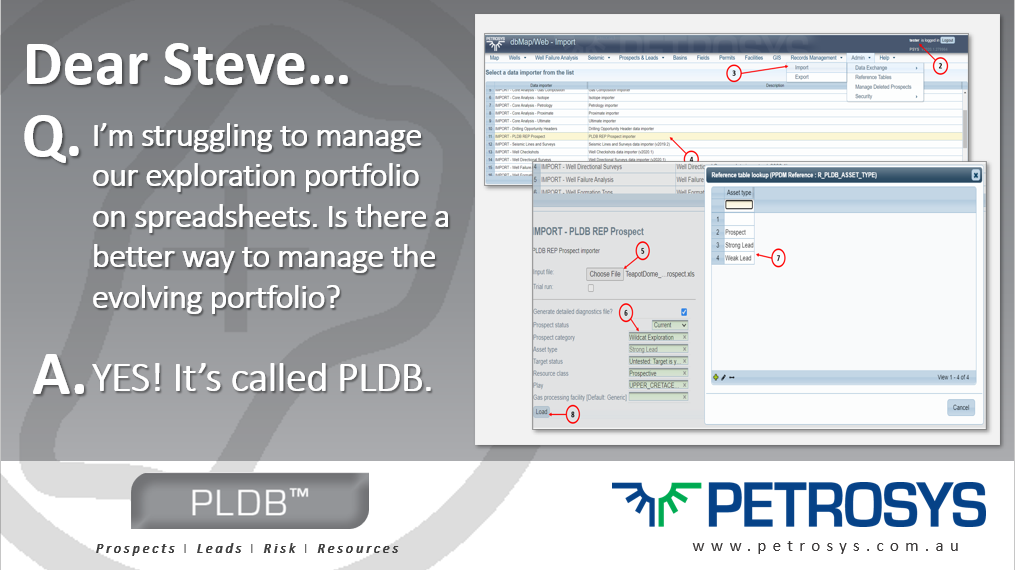 Dear Steve,
Q.

I have been using the Probabilistic Resource Calculator (PRC) in Petrosys PRO successfully to create risked volumes of my prospects. However, I now find myself struggling to manage our exploration portfolio on spreadsheets. Is there a better way to manage the evolving portfolio?
A.

Yes, there is. It's called the Prospects and Leads Database (or PLDB for short) and calculations from the PRC can feed straight into this repository.
The risked volumes don't necessarily need to come from the PRC either. PLDB is designed to store prospect information from a variety of spreadsheet sources. For example, Logicom E&P's Resource Evaluation Programme (REP) spreadsheets can also be stored and managed in this repository. We can also customise the loader to work with any other spreadsheet format.
Here's How
1. Calculate the resources as normal (for example in the PRC, in REP, or elsewhere) and generate an output spreadsheet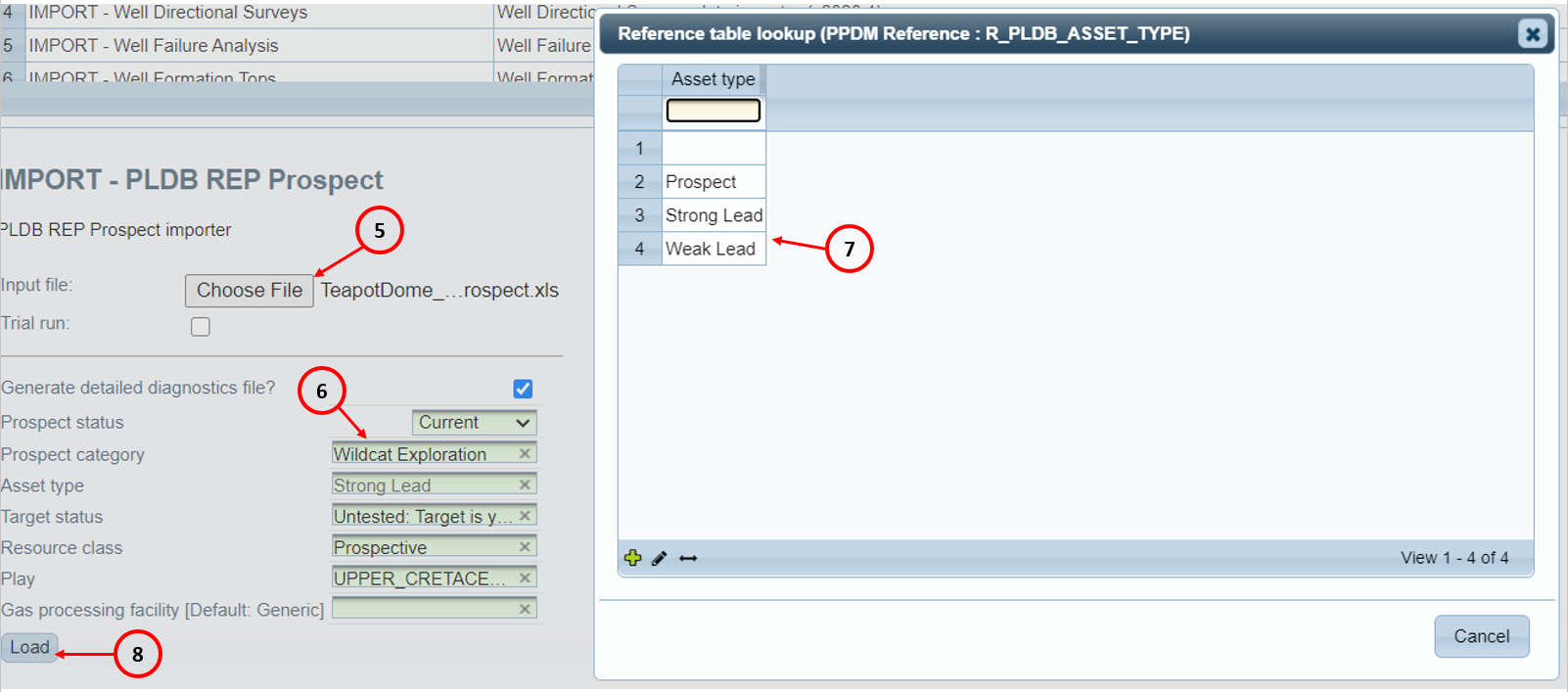 2. Login to PLDB (each user will have different levels of permission)
3. Select ../Admin/Data Exchange/Import…
4. Select the relevant loader (here the REP loader has been used)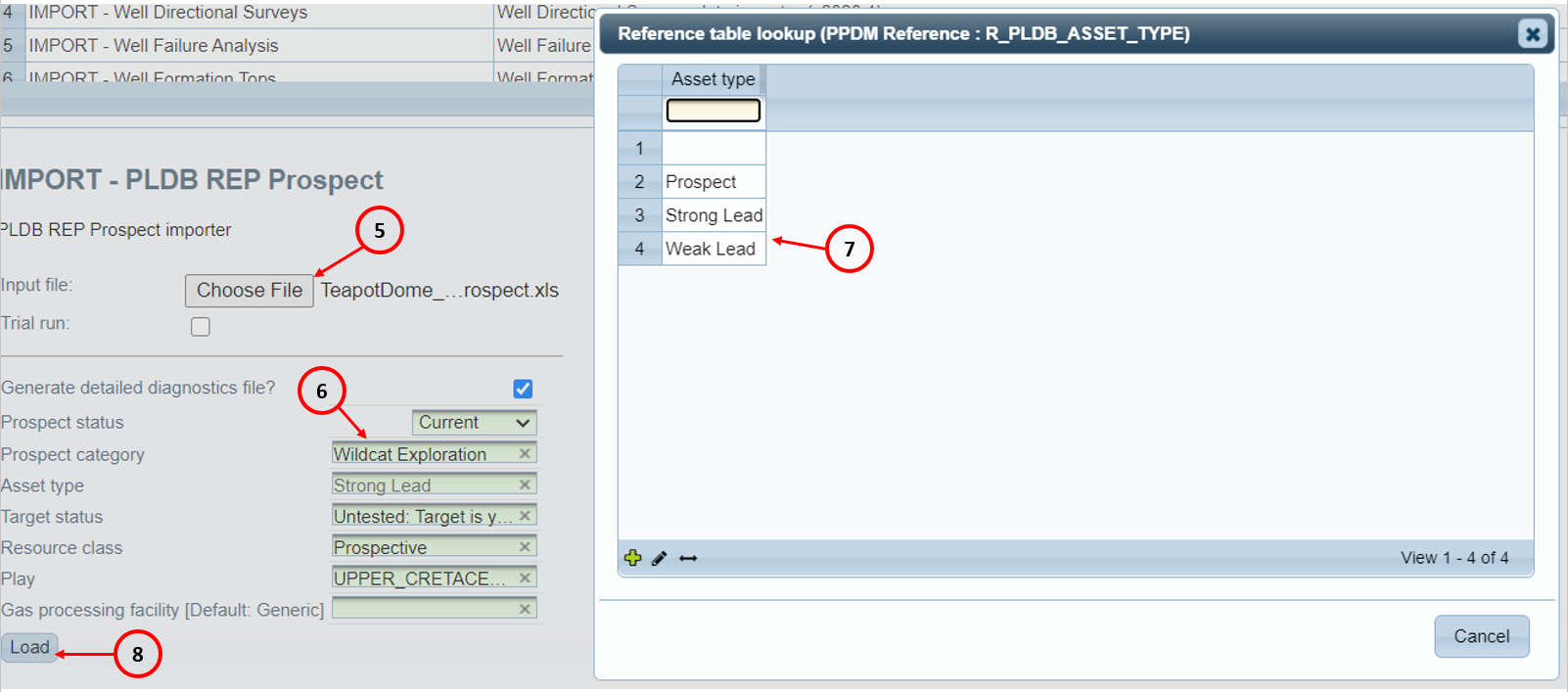 5. Click on 'Choose File' and find the spreadsheet from Step 1
6. Fill in information about the prospect using the 'lookup' tables
7. [An example of a lookup table]
8. Press the Load button to load the resources into the prospect
Here's Why
Spreadsheets are isolated and static.
Isolated – as you need a separate spreadsheet for each prospect (possibly a separate spreadsheet for each target within a prospect)
Static –  as you need a new spreadsheet for each new updated calculation as your knowledge about the prospect grows.
Your portfolio is connected and dynamic.
Connected –  as new information about 1 prospect has significant effects on another. For example, if a new well proves a new play, the chance of success of any prospect containing this same play must increase.
Dynamic –  as new and better information is continually evolving. Re-calculations are common to provide management with the latest knowledge to make the best decisions possible
PLDB is connected and dynamic.
Connected –  as play information is shared between prospects. Targets also have linked dependencies such that if 1 is successful, the likelihood that another will succeed increases.
Dynamic –  as the 'chronology' feature tracks the changes through time, allowing the evolution of the prospect to be tracked. This also means that version management is not an issue.
Find out more about the Petrosys Prospects and Leads Database, PLDB.