New Release Interica OneView™ V2022.1.0
We are pleased to announce the release of Interica OneView V2022.1.0 with new functionality and significant performance improvements. Here are just a few of the IOV v2022.1.0 release highlights.
Improved Performance
The release of Interica OneView™ version 2022.1.0 marks significant improvements to performance for all elements of user interface and API integration. This is the result of the change Interica has made to the graph database model and the introduction of data caches. Scheduled deletion of old metadata from the graph has been introduced to not impact performance and control graph database footprint.
Security
Interica OneView™ has been upgraded to use Java 13, Wildfly 22 and the Log4J vulnerability has been addressed with IOV using the latest secure version of the logging library. Long-term support for Java (17) and Wildfly version 26 will be added to a release of IOV later this year.
Migration of PARS to HTML5
Interica has completed the migration of the PARS user interface to HTML5. We have been working to upgrade all our customers to the latest release of Interica OneView™.
AWS QuickSight Dashboard
Interica are working in collaboration with Amazon Web Services (AWS) to integrate Interica OneView with AWS QuickSight. This work demonstrates how users can extend analysis capabilities by leveraging IOV's Open RESTful APIs to federate and integrate with other applications and data sources. The new QuickSight dashboards provide new visualizations of data growth from multiple sources and enable users to automatically trend different storage, archiving, and migration scenarios and associated cost savings (now including new S3 storage tiers!). Additionally, new geoscience based QuickSight dashboards enable managers to quickly identify data patterns such as well and seismic data coverage and application utilization. Please get in touch with Interica's team to organize a demonstration.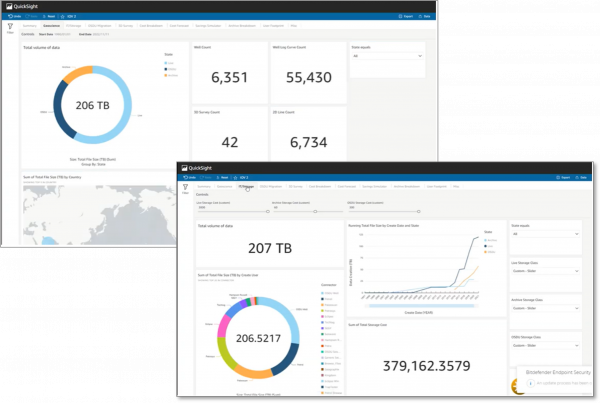 S3 Tiering
New functionality has been added which allows project data to be archived and restored to/from AWS S3 tiers (Standard, Glacier, and Deep Glacier). This improved offering allows customers the flexibility to store project data at the best cost for the business v's required data availability.
OSDU Integration
Interica OneView™ supports integration with R3M10 of the OSDU™ Data Platform. IOV can identify and gather metadata from Seismic and Well data stored in the OSDU™. This allows for comparison with other data sets not yet migrated to the OSDU™. Interica will be adding support to Interica OneView™ to support the ingestion of data to the OSDU to assist our customers who want to migrate their data to the OSDU™.
Seismic Connector
Interica enhanced its existing Seismic connector to gather metadata from seismic files and to store the metadata in Interica OneView™ so that metadata can be used for analysis, queries and automated actions. The connector currently captures EBCIDIC, Binary headers and the first and last points of trace lines. The next development cycle has started which will implement rules in the business logic to distinguish between 2D and 3D survey data and capture as metadata; move the binary header to appear immediately below the EBCDIC header in the Interica OneView™ Data Explorer; Investigate extraction of CRS information from the SEG-Y headers.
Interica OneView™ 2022.1.0 also includes new and updated application connectors for, Petrosys Pro, Techlog, Paradigm, Kingdom, R5000, Petrel Ocean, Petrel Blueback, Paleoscan as well as some bespoke connectors for our clients.
General Improvements
Interica OneView™ now supports SQL Server 2019. The spatial project extents for Live and Archive data are no longer filled to aid the visibility of data displayed on the map. Improvements have been made to the graph database schema checking and updates to prevent EJB timer messages. The projects path field in the Live Projects table is now truncated when the total size of the field data is greater than 30,000 characters.
Speak to the team
If you would to discuss the new release or find out more about Interica OneView V2022.1.0 please contact sales@interica.com.au