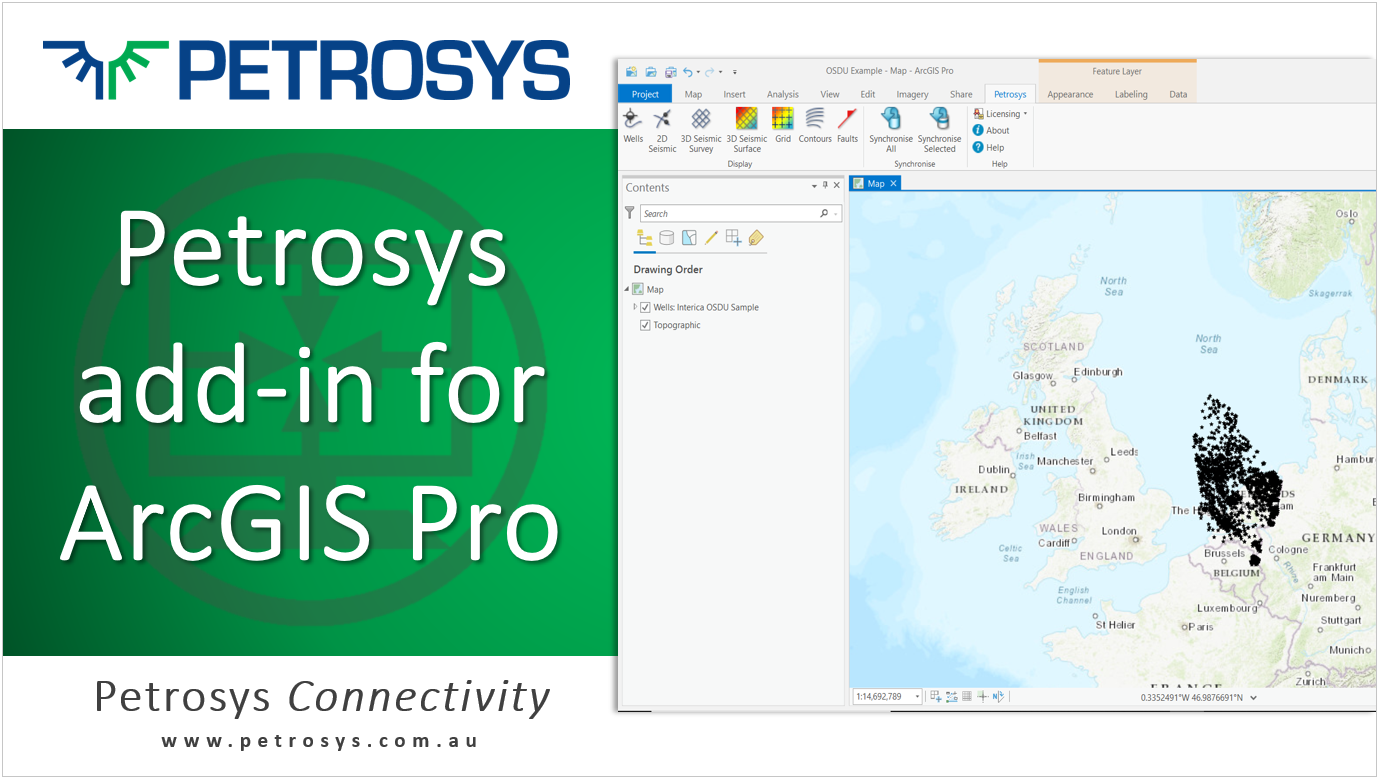 Displaying OSDU and subsurface data inside ArcGIS Pro
Petrosys are no strangers to working with partners and developing 3rd party connections that allow our customers to bring together the data they need with ease. With the highly anticipated Petrosys add-in for ArcGIS Pro coming soon we take a look back at how the story developed, from initial discovery and enthusiasm for the OSDU with colleagues at Interica to now, where we have the ability to put the powerful mapping functionality of Petrosys PRO inside ArcGIS Pro.
The Story so far…
Kevin Ward, Petrosys Europe
I always find it rewarding when months (or even years) of working towards a goal reaches a point where you start to see some tangible outcomes. In March this year (2021), I was rewarded by seeing not 1, but 3 seemingly separate items all come together on the same day to create this map:
The map itself is not the most detailed or impressive technical map I have ever made, but it is one of the most significant maps I've ever made during my time at Petrosys.
The map shows some wells stored in an OSDU platform on Interica's AWS cloud environment being displayed inside an ESRI ArcGIS Pro map. All of these items have been several years in the making, bringing together many hours of hard work by my talented colleagues:
Interica

In early 2020 (I think my last trip before the COVID-19 pandemic) I was fortunate enough to travel to Lewes, near London, to welcome Interica to the Petrosys family. I've spent the last year getting to know my new colleagues and their powerful data management products and learning more about data management challenges in the Oil and Gas Industry. In particular, Interica's knowledge and enthusiasm for the OSDU initiative has been fantastic and a real eye-opener to a new way of thinking about data and software applications and I'm very grateful to them for that.

OSDU

This knowledge sharing about OSDU led to Petrosys becoming OSDU members in early 2021. We have become committed to supporting the initiative and learning to follow fast in the footsteps of Interica. By building on their R&D efforts, and with the good people at AWS allowing us to access Interica's cloud hosted environment, we were able to develop functionality to ingest, exchange and display OSDU data into other software applications in a remarkably short space of time.

ArcGIS Pro

One such application is ESRI's ArcGIS Pro.
I recognised some time ago from speaking to geoscientists at many E&P sites globally that there is a need (and a difficulty) in displaying subsurface technical data live on GIS systems.
When ESRI announced that they were developing a powerful new product (ArcGIS Pro) to replace ArcMap, I started to get involved in conversations internally about the difficulties I had seen.
This seemed to be the main sticking point for me: That E&P systems (like Petrel, Kingdom, Paleoscan, etc.) have very nice tools for interpretation/modeling but when it comes to presenting the data in a meaningful, technical way, geoscientists have to request their data be converted to formats compatible with ArcGIS PRO. I was tasked with being the product champion for a new add-in that would aim to facilitate the display of E&P data onto the mapping canvas and give geoscientists instant access to the powerful mapping functionality inside ArcGIS Pro.
In March 2021 our developers got access to Interica's AWS environment and successfully added OSDU wells as an input data source to our long list of connections. At the same time, our GIS developers were making progress on our ArcGIS Pro add-in and already had wells displaying inside the ArcGIS Pro canvas from multiple sources (e.g. Petrel, Paleoscan, Kingdom, etc.).
Bringing both together we can now display OSDU wells inside of ArcGIS Pro.
The link to OSDU wells and the first release of the ArcGIS Pro add-in will be released in the near future but both are nearing the stage of being ready for pre-release testing if anyone is interested?
---
Get in touch
If you would like to know more about Petrosys PRO contact our team of mapping gurus.