Petrosys PRO 2018.1 – continuing to deliver new functionality & faster workflows!
Following on from the success of our new look & feel Petrosys PRO 2017.1 we are excited to announce the launch of our next major up-grade, Petrosys PRO 2018.1.
Petrosys PRO 2018 builds on the map templates released in 2017 and the ongoing initiative to make the software easier to use reducing training overheads. Increased automation helps users focus on interpretation and produces better mapping results with less time invested. On the technical side, volumetrics is now included as standard with the Petrosys PRO bundle and the first phase of new development is now complete.
Up Date: If you missed our Introduction to Petrosys PRO 2018.1 webinar head to our videos page to see the live recording.
Highlights of what you can look forward to include:
Petrosys Plug-in for DecisionSpace Geosciences®
Petrosys PRO 2018.1 includes the first release of the Petrosys PRO plug-in for DecisionSpace Geosciences.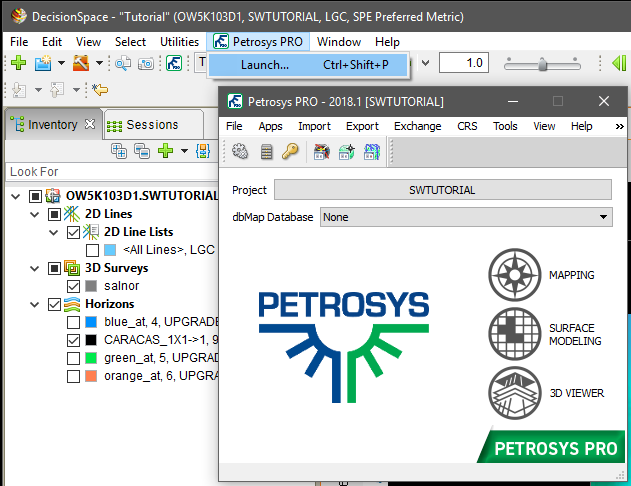 Petrosys PRO can be launched directly from within DecisionSpace Geosciences (DSG) using a menu item or toolbar icon, with support for automatic Petrosys project creation and adding seamless connectivity to user's DSG session data for immediate access with Petrosys PRO. Improving on the ease of use of the "drag-and-drop" functionality that was first introduced in Petrosys PRO 2017.1.
The Petrosys PRO plug-in helps integrate a user's DSG session data with other 3rd party geoscience and GIS data stores, in a presentation quality mapping framework and sub-surface modelling capabilities, without the overhead of importing into OpenWorks.
Additional functionality added in Petrosys PRO 2018.1 includes filtering by native Well and Seismic Line selection lists making it easy to work with the right data.
Web Feature Services (WFS) and ArcGIS Server Support
Web Feature Services (WFS) are a developing technology making shape and attribute data available over the internet. This keeps data current and reduces data duplication and version errors. Petrosys PRO supports access to spatial data from the following web services:
OGC Web Feature Services (WFS)
ArcGIS (MapServer and FeatureServer enabled services)
Spatial data from web services can be utilized in Petrosys PRO in the following contexts:
Mapping – Display/GIS
3D Viewer – Display/Point Data
Surface Modeling – Grid/Create Grid/Input Data
Exchange – Spatial Data Translator
Lowest Closing Contours (LCC) – Automatic Picking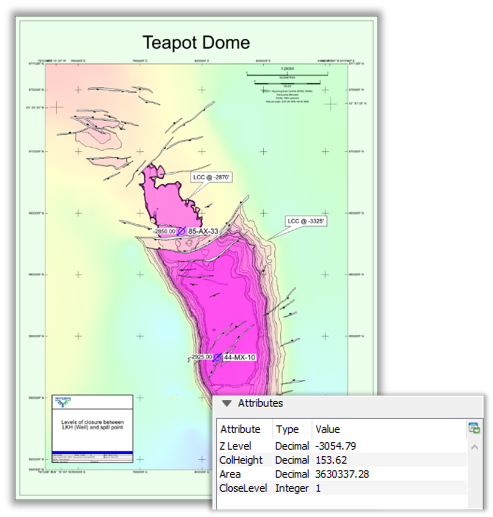 The new LCC option help users quickly and easily identify prospects within their grids. Changing the input parameters allows the user to identify economic prospects and remove smaller, uneconomic closures.
An input grid is required and additional fault and well data can also be used as controls.
For economic purposes outputs can be filtered by a minimum area to remove uneconomic closures and remove noise. To create a range of distributions for subsequent modelling, multiple levels of closure can be generated for one structure.
The output can be mapped using the Display/GIS option including posting, filtering and thematically mapping by attribute.
Superfast Parallel Processing in Gridding Workflows
Surface Modeling has added capability for parallel processing of user workflows. Parallel processing enables the use of the multi-tasking facilities of modern CPUs by diverting selected tasks into separate threads that can run at the same time.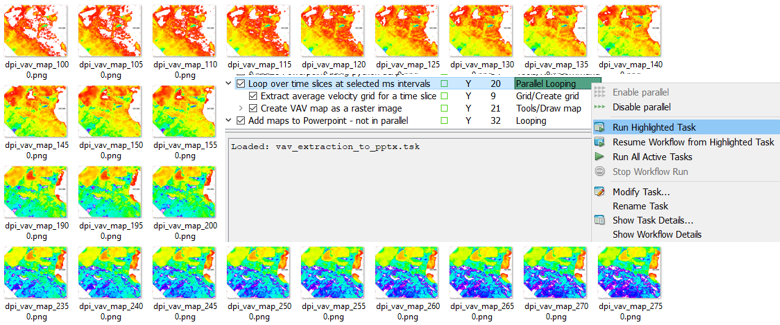 Actual results will vary with hardware configuration, input data and workflows, but significant gains can be made. For example, on an 8-thread laptop the extraction and mapping of a series of 41 time slices from a SEGY velocity cube ran in 107 seconds with parallel processing, down from a coffee-break inducing 595 seconds without.
Our development team are now working on harnessing parallel processing power to other aspects of Petrosys PRO. Let your local support team know if you there's a processing bottleneck that you think might benefit.
Automatic Petrosys Project Creation from Petrel and DecisionSpace Geosciences®
Project creation is much easier when launching Petrosys PRO from within Petrel and DecisionSpace GeoSciences (DSG). This helps new users get started with Petrosys PRO applications immediately and shortens project startup for all plug-in users. One click can take users from selecting the Petrosys PRO icon to the main launcher with a new Petrosys project, matching the Petrel/DSG project name and CRS, created silently in the background.
The first time Petrosys PRO is started from a plug-in, the user can choose to create a new Petrosys project with default settings from the 3rd-party source project or select an existing Petrosys project.
Output Volumetrics to Shapefiles
The publishing of reserves maps that show the spatial distribution of expected hydrocarbons across a region has become increasingly important, both in Petrosys maps and as a component of GIS portals. It is particularly valuable in the planning of the horizontal development of unconventional plays.
To make it easier to map the spatial distribution of reserves and to get Petrosys volumetrics data into the GIS world, Petrosys PRO volumetrics output can now be automatically added into shapefiles representing the polygons into which the volumetrics had been split.
The shapefiles can then be displayed with annotation and thematic coloring in the Display/GIS option, or be passed on to other applications. Attributes include labels for fluid type and area and volume units, so that a comprehensive range of annotations is possible.
Petrosys PRO packaging means that all Petrosys users can now access the volumetrics tool. In conjunction with the shapefile volumetrics output, reserves mapping workflows can be significantly faster allowing more up to date information to be used with much less map generation effort.
If you would like to know more about Petrosys PRO 2018.1 please Contact Us!