We've all seen the pop ups that Microsoft, and other applications, give when a program crashes. Many of us believe it's just easier to click 'Don't Send' and move on with our lives. After all, out of the billions of users, my crash report won't change anything anyway.
So with that viewpoint, what about the new crash reporting system that has been implemented in Petrosys PRO? Why is it worth your time sending this report to Petrosys?
Well, first of all we'll admit the Petrosys PRO's userbase does not run into the billions, it's slightly less than that, however, this means that here at Petrosys we have the resources and enough passion for our software, to investigate every crash report that we receive. Where an email address has been supplied we will go a step further and actually respond in person to follow up. Your crash report has a significant value to us.
The example below is a timeline of events detailing what happened when we received a crash report from one of our Petrosys PRO users who is based in Stavanger, Norway.
28th March 2017 – The crash report comes in. The files show a crash in version 17.8sp4 when trying to import a 3D survey from IHS Kingdom to a Petrosys SDF. Our expert programmers quickly identify that the crash was caused by some recent changes in the code. The crash is added to task 61187, ready to be fixed.
14th June 2017 – Another expert programmer begins to work on this and his code changes have this bug fixed in under 1 hour's development time!
4th July 2017 – The fixes go through our rigorous Quality Assurance testing process and are now ready to be released to our user community.
24th July 2017 – Another crash report comes in. The files would indicate that this is the same person as before. This time the user has included their email address and a short description.
25th July 2017 – One of our expert programming team, identify that it's the same issue and as there are  now contact details, ask our Support team to follow up. Support contact the user in Norway and can now advise their initial crash report has been fixed and is awaiting release
31st July 2017 – Version 17.8sp8 is released with the fix and the user is made aware that an upgrade will stop this problem from occurring again.
17th November 2017 – A user from Canada sends in a crash report. Our programmers quickly identifies that this is the same problem and, since contact details were left, this was given to our Support team to follow up.
20th November 2017 – Support advise the user that they need to upgrade to 17.8sp8 (or our brand new Petrosys PRO 2017.1) to receive this fix.
Because our user in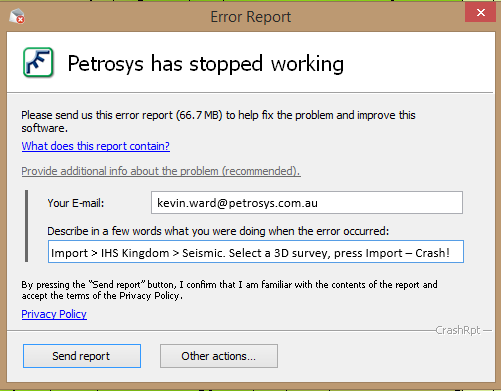 Norway took the few minutes necessary to report this problem, the issue has been fixed and already helped other people from the Petrosys PRO user community.
So, what do you need to do? If you do experience that rare occasion when Petrosys PRO does crash, please fill in your email address and a short description of what you were doing at the time of the crash, click send and leave the rest to us.
Hopefully after reading this article, you will recognise that spending less than 1 minute sending a crash report is not a waste of time. Rather, it triggers a set of set of actions by programmers and frontline Support people who are passionate about improving Petrosys PRO.
This is just one of many examples of how revenue from maintenance and support is spent, improving Petrosys PRO making it work better and more efficiently for you and your colleagues.