GLOBEClaritas is pleased to present the latest software release, Version 2023.2.1, to our clients. This new release, V 2023.1, brings with it a host of outstanding enhancements that promise to elevate both the user experience and technical capabilities.
Among the exciting new features included in this release are:
HRDEGHOST: Introducing a dedicated receiver de-ghosting solution designed specifically for high-resolution and ultra-high-resolution seismic datasets.
QSEIS: Our new application, QSEIS, offers improved functionality compared to the existing SLI and SETDISCFOLD utilities. It allows for seamless viewing and updating of dataset information, enhancing data management efficiency.
Streamlined UI Interface: To further enhance user experience, we have introduced a new, user-friendly interface for Claritas utilities, making data processing and manipulation smoother and more intuitive.
Additionally, we are thrilled to offer a Beta application of the 2D/3D Seismic Viewer. This cutting-edge tool presents advanced 3D display capabilities, providing our users with even better visualization options.
With Version 2023.2.1, GLOBEClaritas continues its commitment to delivering innovative solutions that meet the evolving needs of our clients in the seismic data processing domain. Explore the new possibilities and take your seismic data analysis to new heights with this exciting release.
New HR and UHR Receiver de-ghosting solution
HRDEGHOST is a specialized module designed for trace-by-trace deghosting of high-resolution marine seismic data. It specifically targets shallow-tow scenarios using high-frequency sources with minimal displacements between sources and channels. This module addresses situations where conventional deghosting methods, like 2-D FFT and 2-D deghosting operators, cannot be applied due to insufficient constraints on the positions of the streamer and the sea-surface.
The deghosting process involves three phases:
Initial estimation of primary and ghost arrival times and waveforms at each channel within a small time window of each trace.
Short-time FFTs (STFTs) are utilized in the second phase to estimate various parameters, including reflection coefficients, delay factors, delays, ghost-free spectra, shot-spectra, and amplitude factors. These parameters are calculated for each trace and shot.
The third phase is the actual trace-by-trace deghosting, utilizing causal Wiener deconvolution based on the estimated parameters from the second phase.
HRDEGHOST processes a user-defined number of shots, assuming that parameters like reflection coefficients and delays will be relatively constant within neighboring shots. By characterizing certain combinations of wavefront arrival angles through these parameters, HRDEGHOST efficiently determines regions with relatively constant deghosting parameters, providing accurate deghosting for the seismic data.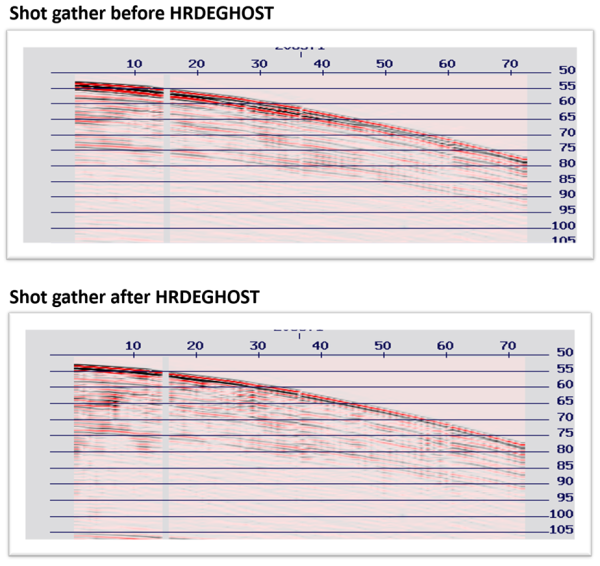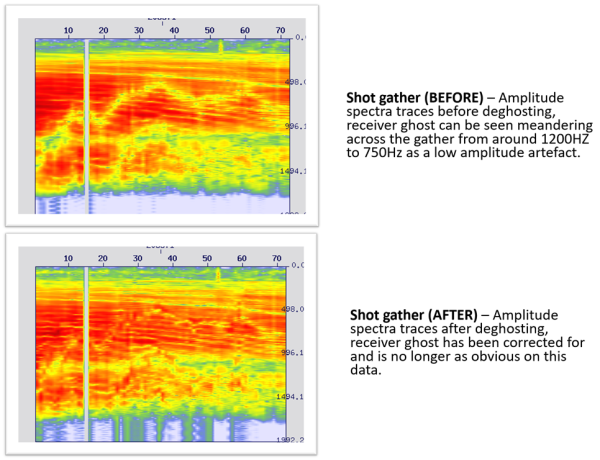 New QSEIS application
QSEIS is a powerful application that replaces the sli and setdiscfold utilities. It displays key file header values, such as sample rate, fold, and sort-keys, like its predecessor sli. However, it offers additional features, including a tabbed display showing the processing history, support-files table, character and binary reel headers, trace header ranges, and the option to list selected trace headers over a user-specified trace range.
The application can be launched from various modules with input/output capability, Claritas applications, and SeisCAT by selecting a dataset and the qseis option. It also supports SEGY Revision 0 and 1 files, Claritas extended SEGY, and Claritas HDF5 input formats. Besides displaying information, qseis can also be used to modify certain file header values, such as shot, CDP, file fold, primary and secondary keys.
To make edits, users can click the "Allow edits" button, which enables them to modify values displayed in green (editable). Modified values are shown in orange, and changes can be saved by clicking the "Save changes" button to rewrite the binary header of the input file.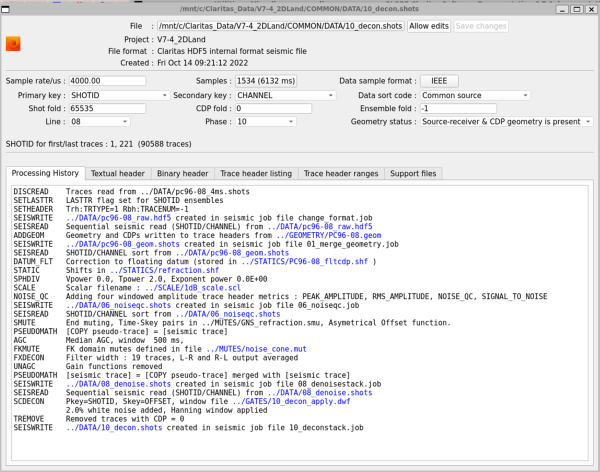 The application offers a user-friendly interface, allowing users to select different files for display, view key file information, and access various tabs to optimize the display of additional details. These tabs include the processing history, Seg-Y Textual header, file binary header contents, trace header listing (with customizable options), min/max ranges of populated trace headers (HDF5 files only), and support files table (HDF5 files only).
Update to the User Interface of Claritas utilities
As part of our ongoing efforts to modernize the User Interface for GLOBEClaritas, we have introduced a significant enhancement by implementing a standardized look and feel across all utilities. This has been achieved through a new PyQT application called gc_utility, which serves as a wrapper for the utilities.
As a result of this update, our commonly used utilities, such as ASC-SUR/SPS/ASC-OBL/SPS, Initialise.nmo, and QSEGD, now present their parameter forms and output displays using the gc_utility wrapper, ensuring consistent and user-friendly experience. This unified approach streamlines the interface, making it more intuitive and efficient for users across all the utilities.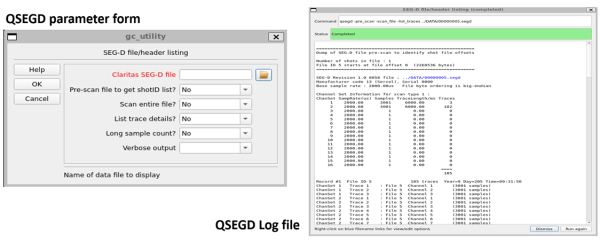 New Seismic Data Viewer available as a Beta application
In this release, we are excited to introduce a new 2D/3D data viewer, developed by the Petrosys software team, into the Claritas environment. As a Beta application, it currently supports SegY revision 1 format datasets. However, in the upcoming 2023.1 release, we plan to expand its compatibility to include CSEGY and HDF5 format files.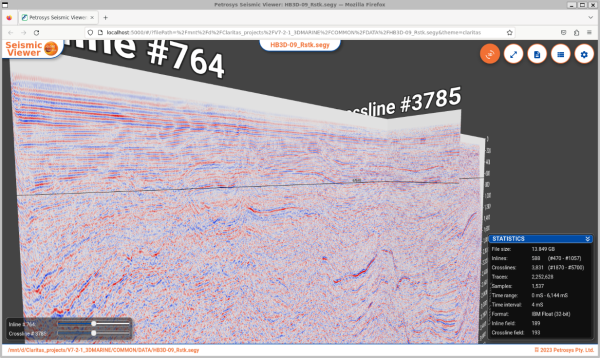 This viewer offers two viewing options: a simple 2D view of Inline data and a full 3D display that allows interactive zooming and panning using standard mouse interactions. It provides visualization of Inlines and Crosslines, leveraging HTML web viewer technology for a fast and GPU-optimized interactive experience.
The viewer is suitable for both 2D and 3D datasets, with the 2D display ideal for examining 2D lines or navigating through inlines and crosslines. To switch between viewing Inline or Crossline data, users can click on the relevant slider bar.
We value your feedback on this viewer as we continue to refine and improve its features.
Talk to us. Keep in touch.
We would like to take this opportunity to remind users of our email addresses for support (support@globeclaritas.com) and for general information (info@globeclaritas.com) We appreciate your continued support of the GLOBEClaritas software and welcome your feedback – it enables us to continually improve the software.
Follow us on LinkedIn to keep up to date with the latest news and information from the Claritas team.
GLOBEClaritas Enquiries
If you would like to know more or have questions please use the form to get in touch with one of our experts.