GLOBEClaritas is pleased to deliver another quality release, with significant improvements to the user experience and technical capabilities including the new Tomographic Refraction Statics and ViewStatics applications. This is the fourth release as part of the Petrosys group.
How to get in touch
Support:                            support@globeclartias.com
General Enquiries:           info@globeclartias.com
Highlights from the GLOBEClaritas V7.3 software release
Introducing Tomo3D
Tomo3D, Tomographic Refraction Statics, is a standalone application for performing 3D refraction tomography for estimating static corrections.
The application is designed to allow users to produce results quickly:
load pick or hdf5 seismic files and initial velocities (nmo-style or the new hdf5 grid format), click the Auto button and Tomo3D will take over.
Or, if the user wishes, they may take full control over:
the dimensions and resolution of the model, how the topography is modeled, velocity update smoothing, the handling of erroneous observations, inversion sensitivity, and algorithm termination conditions.
After each iteration, outliers and residual spreads are graphed and the current velocity estimate can be examined. Any mistakes can be easily reverted with the click of a button. When a satisfactory velocity model has been produced, this can then be used to estimate static corrections, which are written directly to the Claritas HDF5 seismic files.
The new ViewStatics Application
The ViewStatics application uses the new PyQt5 graphics frameworks giving a clean user interface that is intuitive and easy to use. ViewStatics has a similar look and feel to other new applications such as Condor/Griffon and SeisCAT.
The ViewStatics application is available from the Statics tab of the Claritas launcher and is designed to be able to display single or multiple 2D lines, as well as 3D volumes. Users can display multiples shifts files for the same 2D line or 3D volume, it opens with a map display of the 2D line(s) or 3D volume, and each shf file is displayed on its own tab.
Users can display 2D and 3D statics files.
Statics files can be Source/Receiver statics from 2D/3D REFSTAT.
Source/Receiver Statics files from the RESSTAT and SPSTAT/SPSTAT2 modules.
CDP Floating datum statics from the Geometry application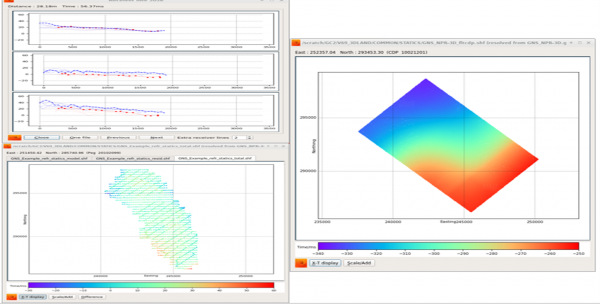 User Interface and Experience Improvements for Geometry Application
We have made enhancements to the User Interface and experience for the Geometry application, making the behavior more consistent with other Claritas applications.
Users can now choose how to display shot and receiver pegs, either displaying source and receivers separately or together. They are colour coded blue for receiver and red for source pegs for ease of identification. There is also the option to display all pegs regardless of type, which will then be displayed in green.
In addition when exporting SPS files from the Geometry application the .S and .R files generated now only have the correct pegs written i.e:
.R file only has Receiver pegs,
.S file only has Source pegs.
And still, there is more!
Further new features and enhancements in GLOBEClaritas V.7.3 include;
2D Re-datuming: a new solution for source and receivers using Kirchhoff imaging technology.
New tools to aid automatic first break picking and QC: a new initial pick method for automated picking, and a new CALCPICK module to assist QC.
Improvements to Geometry application: New Receiver peg info window assists QC of user defined geometries.
Improvements to the SEISREAD module reads past corrupted portions of data, allowing for recovery of data if required.
SeisCAT: now allows users to launch the 3DGrid display tool to display 3dgrid files.
To get started with the latest version of the software, GLOBEClaritas V7.3, visit the Client Portal, or to read the release notes in full download the pdf below.
GLOBEClaritas Enquiries
If you would like to know more or have questions please use the form to get in touch with one of our experts.