The latest release of GLOBEClaritas software Claritas V7.0.1 features some big changes to the SeisCAT seismic catalogue application – we're taking a new approach to how our users will work with data making the application even more intuitive and simple for our clients.
How are we doing this?
Much like the majority of the Seismic processing packages available, Claritas has been traditionally organised to work in an application centric manner, i.e open the Claritas Velocity Analysis (CVA) application and select the dataset you want to work on. In this new release of Claritas we have inverted that paradigm and enabled users to work in a data centric manner.
What does that actually mean?
Well, in short, we now consider what has already been done to the data and what we still need to do to the data.
For instance, if you have a 2D Seismic line that has just been run through a processing sequence, initially you would want to confirm that the results of that flow have had a positive effect on the data. Under the old paradigm, you would have launched the Seisview application and selected the dataset (s) you wanted to QC, however now in the latest version of SeisCAT you select the dataset or datasets you want to view, right-click and from this menu choose the Seismic QC and Compare (Seisview).
We reorganised the dropdown menu in the SeisCAT application to reflect the actual process that our users want to achieve i.e. pick velocities, view or create a geometry, pick first breaks/mutes/edits, etc to make the application as intuitive and simple to use as possible for new and existing users of Claritas.
What advantages are there for new users?
The need for users to understand which application in the Claritas processing suite is required to perform a particular task is removed – a key advantage for new users to the software. By setting the menu out using a task-based approach, barriers to learning the software are minimised or eliminated completely meaning you can become a confident user in a much shorter time frame.
Existing SeisCAT users will find a simple interface to manage data, with the functionality to streamline workflows and maximise your efficiency with your own projects or when training new processors.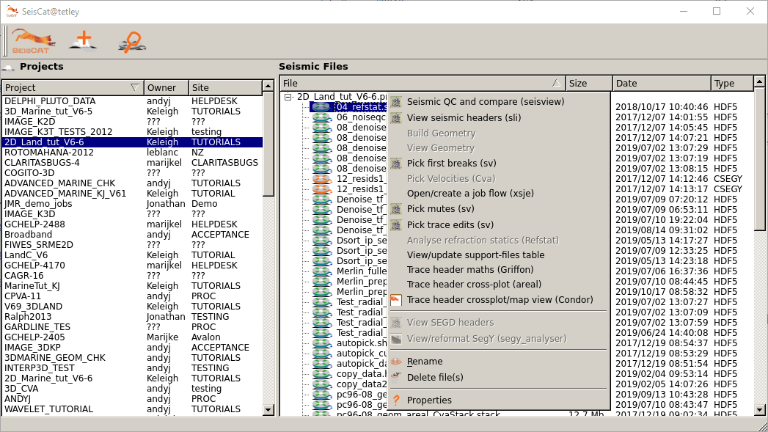 To find out more about SeisCAT or to talk to our team about upgrading to Claritas V7.0.1, please get in touch.
GLOBEClaritas Enquiries
If you would like to know more or have questions please use the form to get in touch with one of our experts.