It is that time of year again when many of us will start to wind down for some much needed R&R, and a chance to spend time with family and friends to enjoy the festive season, but before you do, we at Petrosys would like to take this opportunity to thank all our clients and partners for their continued support throughout 2019 and remind you of some of the highlights in the Petrosys year.
We have been extremely pleased by the outstanding response to our 2019 software releases – the response to the development of Log Signature Maps and Production Well Paths in Petrosys PRO has been particularly encouraging. dbMap and PLDB users too have been exited by the addition of the Well Log Viewer, Well Failure Analysis and Tornado plot tools.
In July of this year, Petrosys announced a new partnership with PetroCubic Workspaces for the first time making Petrosys PRO available on a per-use basis via their cloud-hosted service. And, just a few weeks ago we announced the acquisition of GLOBEClaritas – seismic processing software, from GNS Science. We are pleased to add even more detailed geophysical knowledge and expertise in our software R&D team, coupled with a combined enrichment in our shared understanding of seismic data and processing methods. Learn more about the GLOBEClaritas suite of tools.
GPinfo too has had a momentous year with 2019 being the 30th Anniversary Edition of the iconic GPinfo Petroleum Permit Map – launched in May of this year. More recently, however, GPinfo was very proud to have been part of the Geoscience Australia Hydrogen Prospectivity Project, with GPinfo pipeline data playing a significant role.
Petrosys has a fantastic team of mapping gurus and I would like to encourage you to take a moment to celebrate with us a few of the milestones and achievements some of our team have accomplished. Mark Andersen, Nathan Balls, Mike Silva, and Ewan Rule have been looking back on their combined 100 years of service with the company, while we congratulate the original Support Guru Steve on his gold medal win at an International Table Tennis tournament.
The Petrosys teams have had a very busy year on the Petrosys Tradeshow World Tour and it has been great to be able to personally connect with many of you at the shows. Special thanks must also go to those who were able to attend our Global User Events in Australia, UK, USA, and Canada. We hope that you took away as much from these events as we did with many of you expressing your enthusiasm for what we have planed on our 2020 Roadmap and beyond.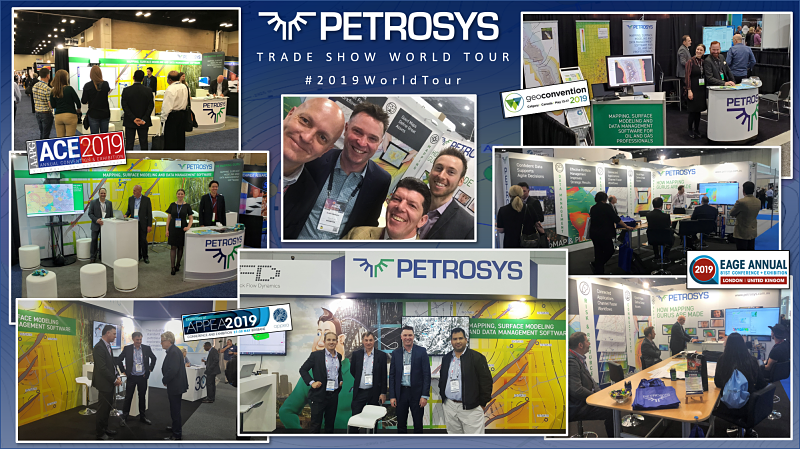 As a new decade approaches, we turn our attention to bigger and better development as we start to formulate what a potential cross-sections tool might look like for Petrosys PRO users  – read about our brainstorming session in Adelaide with some of the team from around the world. We are as always interested in your feedback on what you would like to see, so please comment and let us know. Our R&D team has just released PRO 2019.2.1 which has a focused collection of spatial and mapping enhancements driven by user feedback – learn more.
Nothing but exciting times ahead for the 2020s. If you have suggestions for our 2020 technology roadmap  – please share them!
From all at Petrosys we hope you have a relaxing, happy and safe festive season and wish you all a bright and successful 2020.
---
Get in touch
If you would like to know more about Petrosys Software contact our team of expert Gurus.