In 1989, Encom Technology a small software house based in Sydney produced their first permits map which would begin a 30-year journey developing into what we now know today as the GPinfo Petroleum Permit Map, becoming the definitive source for Australasian Petroleum exploration information.
GPinfo is born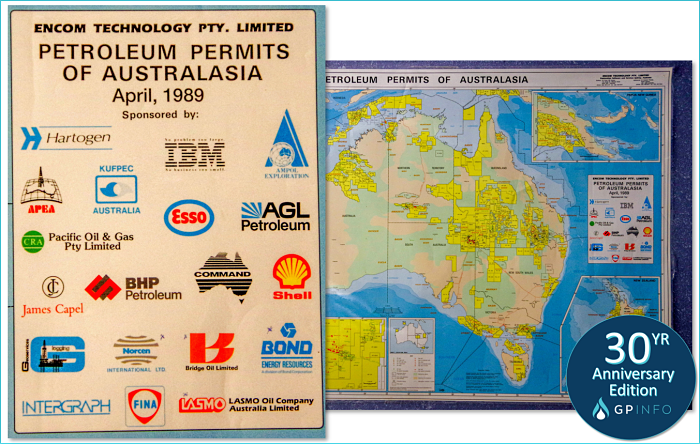 Around the time of producing the first map Encom quickly came up with the idea for a graphically driven petroleum database, an interactive version of the map, creating an interface which at the time was cutting edge technology.
The commitment of a handful of key companies who signed up at the very start made the project possible – BHP, Santos, Apache, Shell and Woodside all joined in 1990 and still subscribe today.
In June 1990 at the APEA Conference (as it was then called) in Darwin, GPinfo was launched.
Who remembers floppy disks?
Data updates were issued monthly, as they are now, but initially had to be copied onto 5¼" floppy disks and posted out to clients. If the update was too large to fit on a single disk, which was often the case, it became a logistical nightmare. Disks were lost or damaged in transit and had to be resent and overseas clients had to wait while the disks made their slow way over. Thankfully technology moves on and by 1999 we had switched to email delivery of updates and then in 2001 we moved to web download.
Always at the cutting edge
By 2001, a web-based version of GPinfo as a subscription service had been developed – a prototype app in today's terminology – once again, keeping GPinfo at the forefront of modern technology.
Over the years since, many additional extras have been added to the core GPinfo product, enriching the data and adapting to the changing industry demands. The interface has similarly been upgraded and enhanced over the years while still being able to remain a data-specific custom GIS. It is for these reasons that GPinfo is today highly regarded as the source of petroleum data for the Australian region.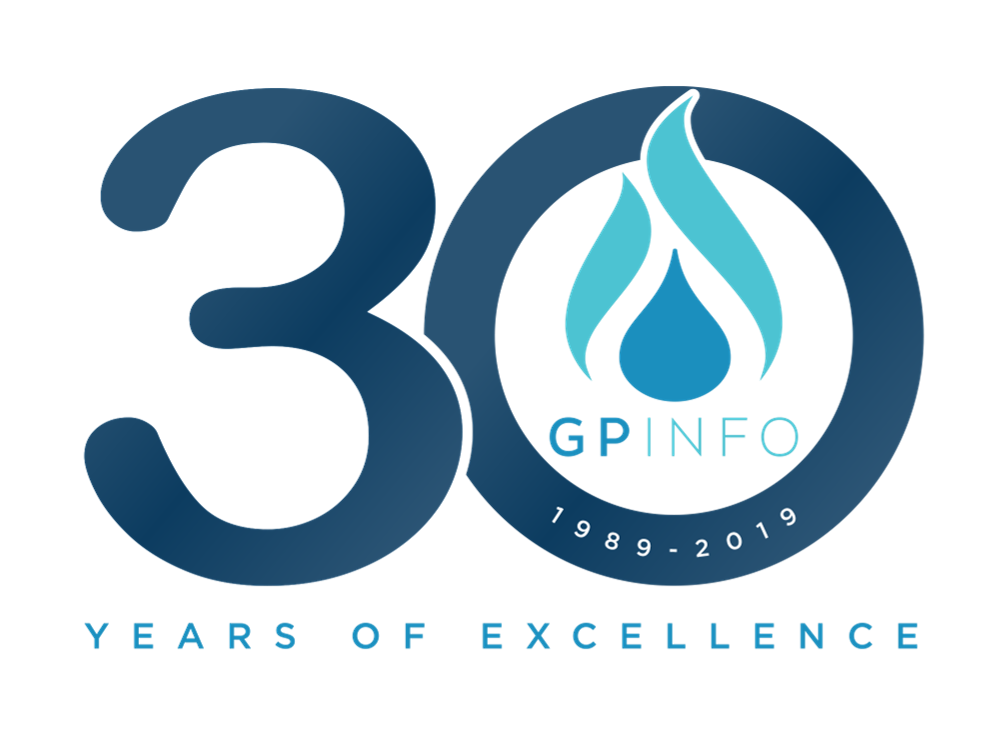 30 years of excellence
An industry institution for almost 30 years, in 2018 GPinfo became part of the Vela Software family and is now aligned with sister company Petrosys, continuing to grow from strength to strength. This endurance and expansion has been possible in large part due to continuity within the GPinfo team. Angela Willett predates the GPinfo team – she joined Encom 1989, soon to be joined by Cynthia Thomas in 1992. Catherine Speed has been with the team since 2011. Between them they have an incredible 65 years of experience with GPinfo, bringing a wealth of knowledge and industry connections.
2019 and beyond
30 years on and we are proud to be launching the 30th Anniversary Edition of the GPinfo Petroleum Permit Map in May at the APPEA 2019 Conference in Brisbane. We would like to thank all our sponsors, from the first map right they way through to the 30th map for your continued support and we look forward to what the next 30 years will bring.
For details on Map sponsorship please visit, www.gpinfo.com.au or contact GPinfo.