In addition to the traditional way of creating title blocks using CGM files, Petrosys PRO 2018.2, now gives users the option to use an Excel spreadsheet to create and edit title blocks. This alternative provides users a much easier way of creating and editing title blocks according to their requirements.
Petrosys can match basic styles set in Excel (colours, fonts, borders, background fill, inserted images) enabling you to create a desired title block.
To define a title block, it is just a matter of setting up the borders, style and contents in Excel. As a starting point it is recommended you use one of the various Excel title blocks that come with Petrosys PRO software, this avoids any complications with the row and column-based grid that Excel uses. (Tip: these samples can be found under the 'misc' directory of the installation folders).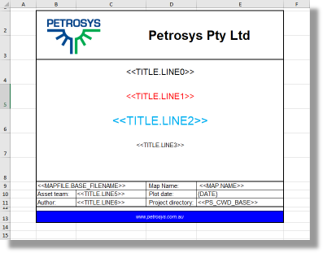 Once a style has been defined and the spreadsheet saved, the Excel file needs to be copied into a 'title_blocks' sub-directory in one of the following locations:
Current project directory – the title block will be available for the current project only.
ps_local – the title block will be available for all users.
Users can also display adhoc Excel files to be selected for use as title blocks from the Display Title Block panel.
Once the title block has been saved in its right location, it is ready to use!
A dialog allowing the title block contents to be specified will be automatically generated by Petrosys PRO. Hence it can be used straightway after placing it in the one of the locations mentioned above.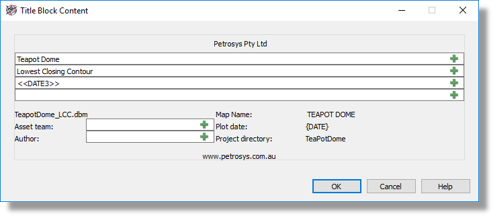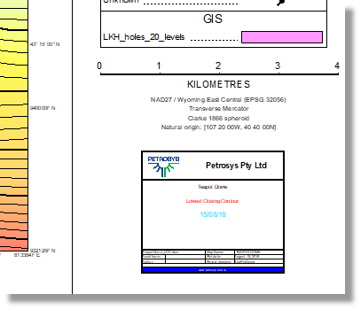 Additional information and suggestions on how to create and edit title blocks based in Excel spreadsheet can be found in the Online Help under the topic called TITLE BLOCK – CREATING A TITLE BLOCK EXCEL FILE.