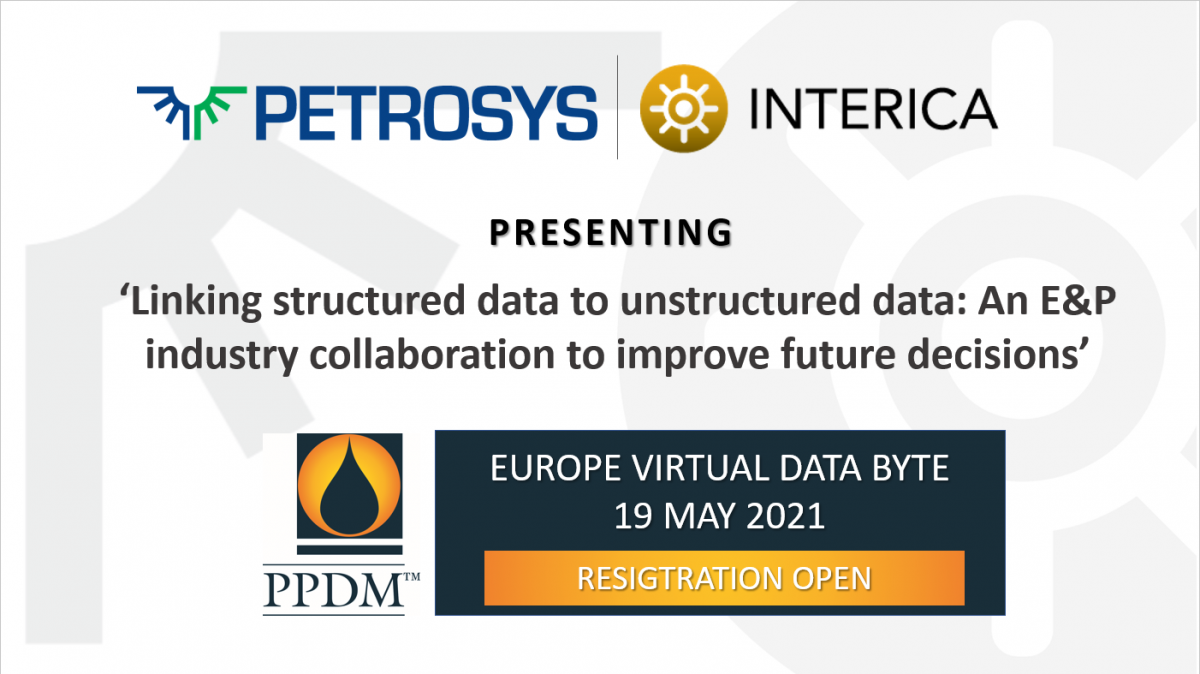 Petrosys & Interica presenting at the PPDM Association's Europe Virtual Data Byte
The Petrosys and Interica teams are looking forward to presenting 'Linking structured data to unstructured data: An E&P industry collaboration to improve future decisions' at the upcoming PPDM Association's Europe Virtual Data Byte on 19th May 2021.
Presenters Jonathan Smith and Paul Gibb will provide an educational talk on G&G project data which includes the process that combines Interica OneView™ and Petrosys dbMap® cataloguing both project data and unstructured files for quicker search and confident usage.
Registration closes on 18th May 2021.
---
Professional Petroleum Data Management (PPDM) Association
Europe Virtual Data Byte – Sponsored by SWORD ENERGY
Abstract: Linking structured data to unstructured data: An E&P industry collaboration to improve future decisions
Businesses frequently make strategic decisions based on their analysis of structured data. Underpinning this is a large volume of unstructured data so ultimately an understanding of both is necessary – for example, in reviewing previous decisions there needs to be knowledge of the inputs that were used in the interpretations.
To achieve this, an in-depth understanding of the project data across the G&G application portfolio is needed in the first instance. This can be achieved by using connectors to extract detailed metadata from all geoscience applications regardless of vendor. Interica has practical experience in this area and will provide some insights into this technique in the E&P industry.
This insight can be coupled to some practical work done by sister company Petrosys to discover and categorise unstructured data using a Machine Learning approach which leverages the power of Elasticsearch. The unstructured data can then be catalogued in a database using the PPDM model and physical data such as, well data, logs, seismic data, core samples and images, and reports can be associated with the structured data.
Through collaboration, Interica and Petrosys have developed routines to associate the classified and categorised unstructured data with the audited structured data. This collaboration allows data managers to retrieve a full inventory of their data, plan initiatives to improve data quality, remove duplicates, or archive older and unused data where appropriate. By combining structured data to its underlying unstructured data, companies can therefore better understand their historic decision making and make future decisions safe in the knowledge they have all the information available.
Jonathan Patrick Smith (Senior Project Consultant, Interica)

Jonathan is a highly experienced Geoscience consultant, specialising in E&P data management. He has twenty-five years of oil industry experience working in the UK, Norway, and the Middle East, where he has extensive experience in workflow analysis, G&G application support, project management, Data Centre design, NDR reporting, and QA procedures along with OSDU and cloud solutions.
Paul Gibb (Business Development Manager, Petrosys)

Paul has worked for E&P Operators and Subsurface Consultancies as a geologist and business development manager extensively in the geoscience interpretations and technology sector, where he has focused on application deployment, training, and project management. Paul holds a Masters in Petroleum Exploration Geology from the Oxford Brookes University.