Time flies when you're busy and having fun – A message from the CEO.
Reflecting on the busy year we have had here at Petrosys we feel that the Petrosys PRO 2018 series has delivered 3 feature packed Petrosys product updates that have delighted our clients, including;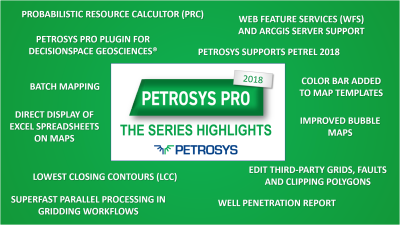 Lowest Closing Contours (LCC) options to help users quickly and easily identify prospects within their grids
Probabilistic Resource Calculator allows users to compute a range of outcomes for oil and gas volumes using Monte-Carlo simulation via the dbMap/Web Prospects & Leads resource calculator.
Superfast Parallel Processing in Gridding Workflows
Support for Petrel 2018 in all the places you've come to expect, grids, seismic and wells and more.
Petrosys PRO Plugin for DecisionSpace Geosciences® – launches Petrosys PRO directly from within DSG.
Well Penetration Report very useful for reservoir appraisal and development.
We are now looking to the new year and are very excited about what 2019 will bring. Our development work for the 2019.1 release of PRO, dbMap and PLDB is already well progressed.
While things are beginning to wind down for the holiday season, we wanted to squeeze in one more information packed edition of the Mapping Guru newsletter – inside you can learn more about;
We hope you are getting into the festive spirit and to help spread the seasonal cheer, we've selected a couple of pictures to share from our own recent staff Christmas celebrations and events.
From everyone at Petrosys we'd like to wish you a very merry Christmas and a happy New Year. We hope you enjoy spending some quality time with your loved ones and some good food, too!