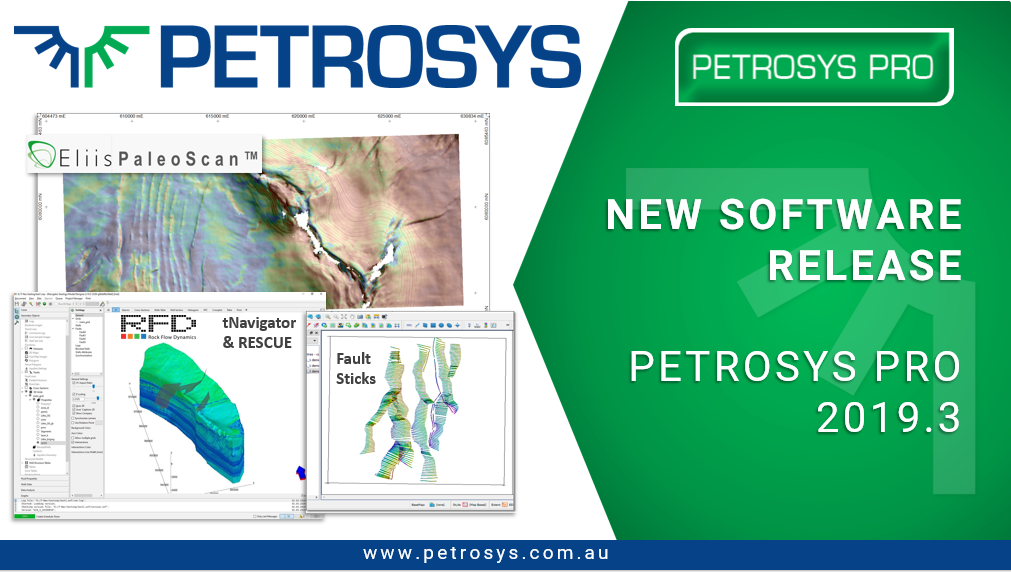 New Software Release – Petrosys PRO 2019.3 is out now. The Petrosys ongoing commitment to value-added development is highlighted in this new release with significant enhancements to Petrosys PRO's already large footprint of third party vendor connectivity, including; new connections to Eliis PaleoScan™ and Rock Flow Dynamics tNavigator® and continuing with the addition of the display of OpenWorks contours, Petrel and DecisionSpace fault sticks on the Petrosys PRO map.
Introducing the Eliis PaleoScan™ Connector for Petrosys PRO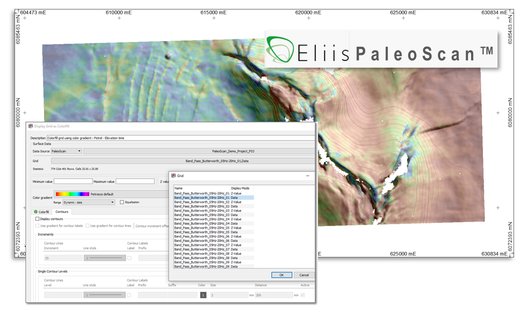 Petrosys PRO connectivity now supports direct interaction with Eliis PaleoScan™ 2019.1 improving your workflow efficiency between these two popular applications.
Support for PaleoScan 2019.1 includes the ability to:
Import PaleoScan horizons to Petrosys PRO grid files for use in mapping, 3D Viewer and surface modeling.
Directly display horizons as grids in mapping.
Directly display horizons in 3D Viewer.
Direct use of Paleoscan data in Petrosys PRO Surface Modelling where multi-connect grids are supported.
PaleoScan™ is a new generation of 2D/3D seismic interpretation platform. Connecting Petrosys PRO mapping directly to PaleoScan's comprehensive approach to semi-automatically interpret seismic volumes, brings together new workflows for rapid assessment leveraging the high-quality mapping and presentation capabilities of PRO working in a complementary way with the PaleoScan™ data.
This is the first release of the exciting connector. Input from clients to enhance the integration is welcomed.
RFD tNavigator® & RESCUE standard format data support enhanced
A significant enhancement to the data types supported by the RESCUE standard is available in Petrosys PRO 2019.3. This adds RESCUE format data support for Wells, 3D Grid, 3D Grid properties, and fault data, which can now be read and displayed in PRO Mapping and the 3D Viewer. Previously only RESCUE format horizon data was supported.
RESCUE formats help to enable data exchange for earth and reservoir models between a wide range of applications.
Users of Petrosys PRO can take advantage of this capability to exchange data between tNavigator, PRO and a host of other applications that continue to support this open exchange standard.
OpenWorks® Contours
Displaying contours from OpenWorks® in Mapping is now supported.
Fault Sticks now Directly Displayed on Map
Fault sticks from all third-party data sources can now be displayed directly on the Petrosys PRO map.
Drag-n-Drop Enabled in Exchange to Simplify Workflows
The Exchange options for Grid, Fault Sticks, 3D Seismic Surfaces are now drag-n-drop enabled from Petrel® and Decision Space®. Users now can drag-n-drop GIS/File System Shape data from DecisionSpace® Geosciences (DSG) GIS connections to the Mapping canvas.
GIS connections supported in DSG include:
File System
Database Connections

File Geodatabase
SDE (Oracle, SQL Server or PostgreSQL)
Interactive Change of the Map Extent
The extent tab in the map properties dialog now includes the ability to interactively size and position the current extent. This is similar to the resize option found in Petrosys PRO versions 17.8 and was reintroduced by popular user demand.
This functionality complements directly repositioning the map via pan and zoom.
Find out more about all of the new features in the Petrosys PRO 2019 series in the full Software Release Notes
---
Get in touch
If you would like to know more about Petrosys PRO contact our team of mapping gurus.