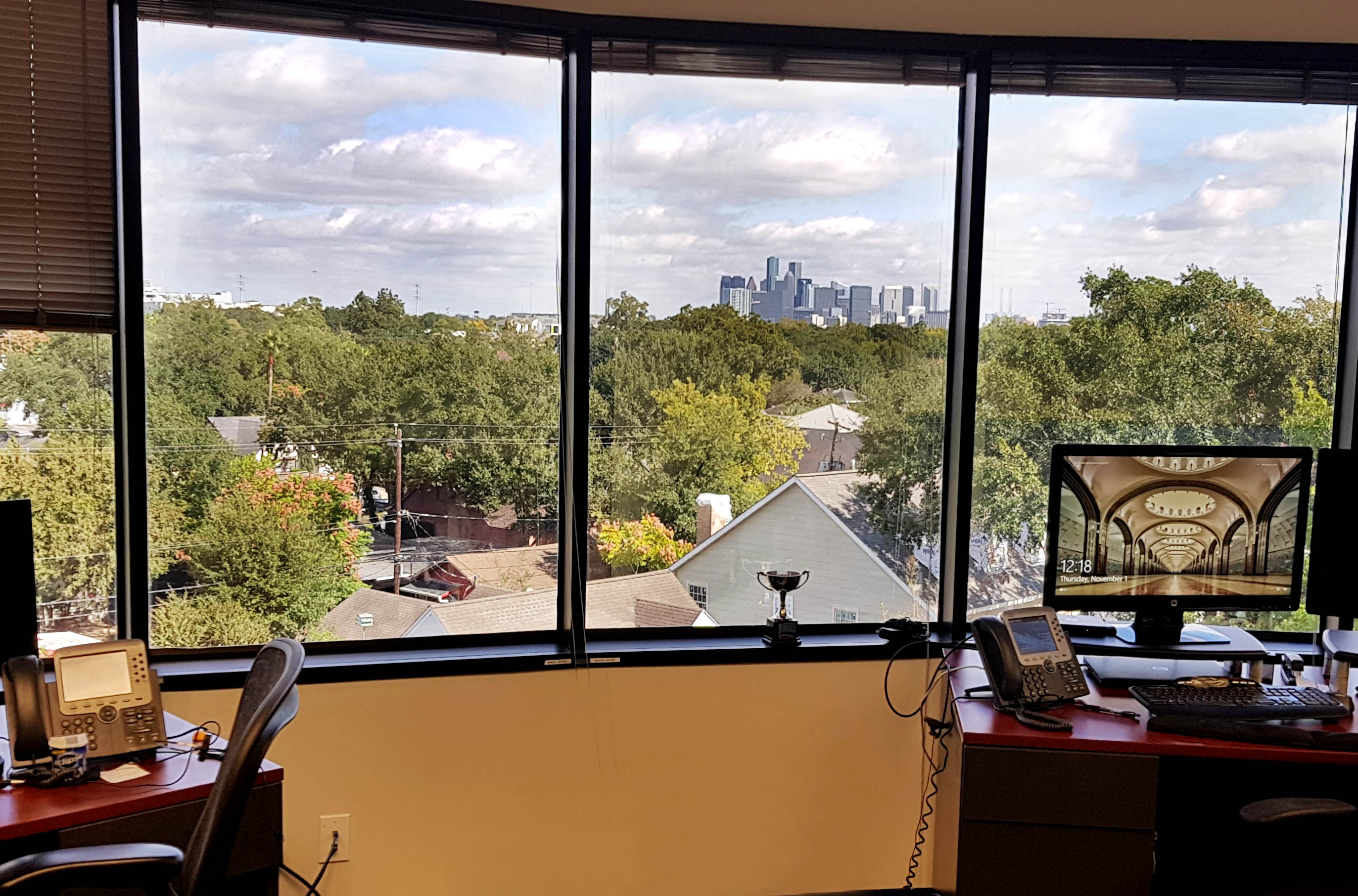 In line with our client's emphasis on improving operational efficiency Petrosys USA and Canada have recently moved into new premises and migrated most of their IT infrastructure to the Cloud.
Petrosys USA is now just a short hop from Houston's Rice Village in the IBC Bank Building, where we have a great view of the Houston Downtown skyline:
Petrosys USA Inc.,
5615 Kirby Drive Suite 440
Houston TX 77005-2444
USA
Petrosys Canada have moved in with one of our related companies in the Vela Group stable, mining data management company Acquire:
Petrosys Canada Inc.,
1023 – 7th Avenue SW
Suite 400
Calgary, Alberta
Canada  T2P 1A8
Our phone numbers remain the same, although the Houston fax (!) is now +1 346 231 0009.
Cloud Hosted Infrastructure
Our North American operations have been running a significant number of physical servers which have in the past required dedicated server rooms with – in the case of Houston – a dedicated air conditioning system. We use the servers to host the wide mix of test versions of connected applications and database types, legacy versions of Petrosys, regionally mirrored administrative data, and large data sets that make it possible to provide the great support that our clients appreciate; as well as for hosting our VOIP telephone system and a range of ancillary functions such as controlling the office door access.
A key requirement of our office move was that we could eliminate the extra cost and physical equipment management associated with these servers. Our IT team came up with a strategy to migrate the mix of systems using virtualization on the AWS Cloud, and we are now in the process of the final 'power off' of the servers.
The migration has not been without its challenges. What is depicted in schematics as a simple arrow through a heavenly portal connecting a box on the ground with a vault in the Cloud turns out to be quite a tortuous succession of often competing service providers, network equipment types and versions, data protocols, security traps and software applications. We've spent quite some time fleshing out these paths to identify why particular combinations of core functionality – such as opening Office documents or PDF's – hit performance bottlenecks; ensuring that voice communications get uninterrupted attention; and making sure that our essential VPN applications work as required. 'Ping' has reappeared as an everyday word in our staff vocabulary.
Having sorted out these problems, Cloud migration is not only reducing our office overheads, it also provides benefits in the form of better access for staff working away from the office, disaster recovery, and global systems management. It improves our ability to knowledge share support issues across the Americas, Europe, Asian and Australian teams, and brings our developers closer to the front line.
Many of our clients, who are actively looking at cloud hosting as a partial or complete component of their own IT strategies, have similar stories to tell. If you are involved in Cloud hosting of Petrosys or related environments, feel free to contact your local Petrosys support team to share experiences and swap notes on what is a very powerful but at times also complex technology.