GlobeClaritasTMdelivers a powerful and effective software solution when it comes to creating or enhancing your seismic data processing capabilities in FieldQC, Processing QC, Land & Marine Processing, and for Academic Programs.
Improve spatial sampling of legacy datasets
There is a significant amount of vintage seismic data available, which if sensitively reprocessed could provide a lot of value. However, poor spatial sampling and therefore spatial aliasing of these vintage or legacy datasets remains a significant problem.
The Challenge
Company A had lots of legacy data they were struggling to interpret. Compared to modern datasets these were typically under sampled in the shot and receiver domain, leading to spatial aliasing problems, making processing the data quite challenging.
This was limiting the opportunity to improve final images, resulting in data that was both time-consuming and difficult to interpret.
The Solution
Using GLOBEClaritas Company A could take advantage of the easy to use tools that enabled their geophysicists to take sparse poorly sampled input data and interpolate in both the source or receiver domain efficiently.
Taking data from 24-fold – 100m group intervals to 96-fold 25m group intervals resulted in aliased noise in the shot domain being unwrapped and de-aliased, making it simple to attenuate in the FK or Tau-P domain. Similarly, taking the SP Interval from 100m to 25m produces higher fold CDP's resulting in improved signal to noise and consequently a better stack response.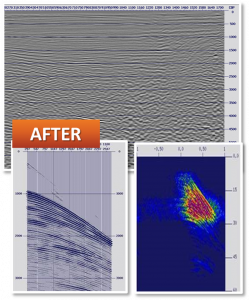 Aliased noise in the shot domain can be unwrapped and de-aliased, making it simple to attenuate in the FK or Tau-P domain.
The Result
Company A found the simple, fast, and efficient processing solutions in GLOBEClaritas improved the final image produced from legacy datasets. They were able to extract additional value from the structural interpretation of the geology covered by vintage surveys.
On review, they discovered, by using GLOBEClaritas they had reduced the need for new dataset acquisition. When new were acquired, they were able to target the datasets based on key structures or where no data was available.
Get in touch to find out more!