The full production version of the 17.8 stream – 17.8sp1 – was released on 15th September 2016 and focuses on improved mapping and editing of data that makes it easier to use consistent map templates across maps of different scales and extents, simplifying final map production and improving map automation workflows. Location maps can be dynamic, and map elements like title blocks can be positioned relative to the map frame – helping to easily apply corporate mapping standards.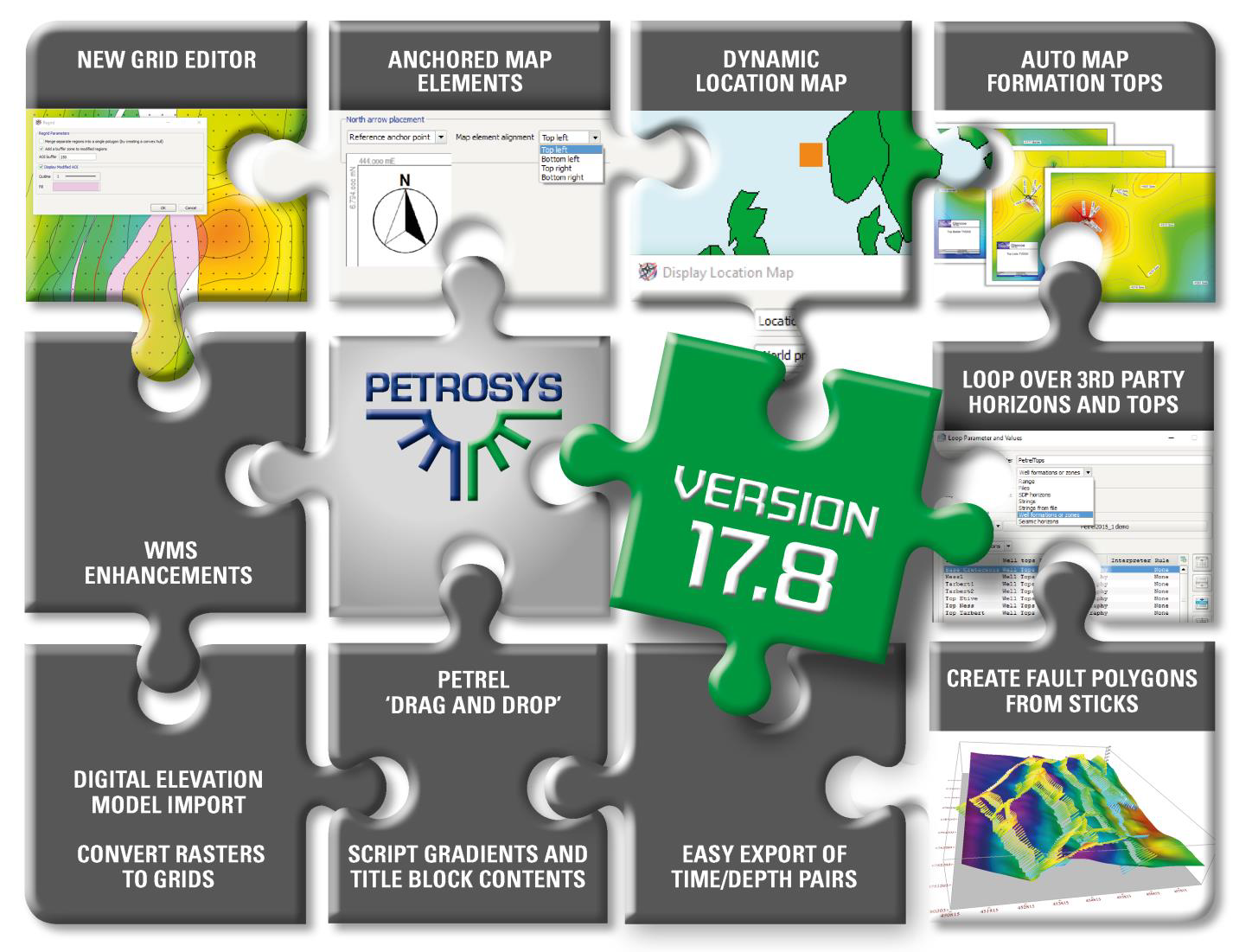 Key highlights include:
New Grid Editor Improving the Quality of Geological Maps
The spatial editor now includes a powerful new grid editor, that allows for a quick and easy way to improve the quality of geological maps without the need for re-interpretation. It also allows easy creation of surfaces from digitised data.
Spatial Editor – New and Restored Functions
New tools have been added to the spatial editor to group/ungroup items of the same type and to move objects to the back – this is particularly useful for editing GIS files with shared boundaries such as licence blocks.

Several popular functions previously available in the contour/fault/polygon editor have been restored including:
Interactively creating a polygon from hand-picked segments. The shape tracing functionality has been updated to automatically jump across shapes when appropriate (i.e. there is an intersection between two shapes)
Joining line segments
Export selected shapes to spatial data sources
Icons to assign, swap and invert fault flags have been added
In addition, the usability of a number of the existing options have been improved considerably making the editor more powerful and easier to use than ever!
Map Element Positioning Enhancements

Map elements such as the scale bar, legend, title block and north arrow can now be anchored to a corner of the map sheet, further improving the mapping experience. The elements will remain in the same relative location regardless of the area of interest selected and the preferred configuration can be saved to a Petrosys .dbm file and subsequently merged into other display lists.

Dynamic Location Map

A Location Map option has been added to the Display/Map Elements menu.

The dynamic map will automatically show the current Area of Interest (AOI) superimposed on a World Map. The current AOI can be used for the coordinate system or a suitable World projection can be selected.

The location map can be anchored to a corner of the AOI or placed in the map sheet title bar. Symbology for the bounding box and underlying World map is controllable.
Raster to Grid Conversion
New option allows importing of common raster formats to Petrosys grids. Formats include TIFF, JPEG, ECW ArcBinaryGrid (.adf), Erdas Image (.img) and BIL format. The CRS will be read automatically.
Digital Elevation Model Support
Petrosys now imports a wide variety of Digital elevation models (DEMs) – used to represent high resolution topography and bathymetry data – directly into a Petrosys grid. The CRS is automatically extracted and assigned to the grid.
Petrel 'Drag and Drop'
Petrel users can drag and drop layers directly from the Petrel data tree to the Petrosys mapping canvas, eliminating the need to search for data through menus.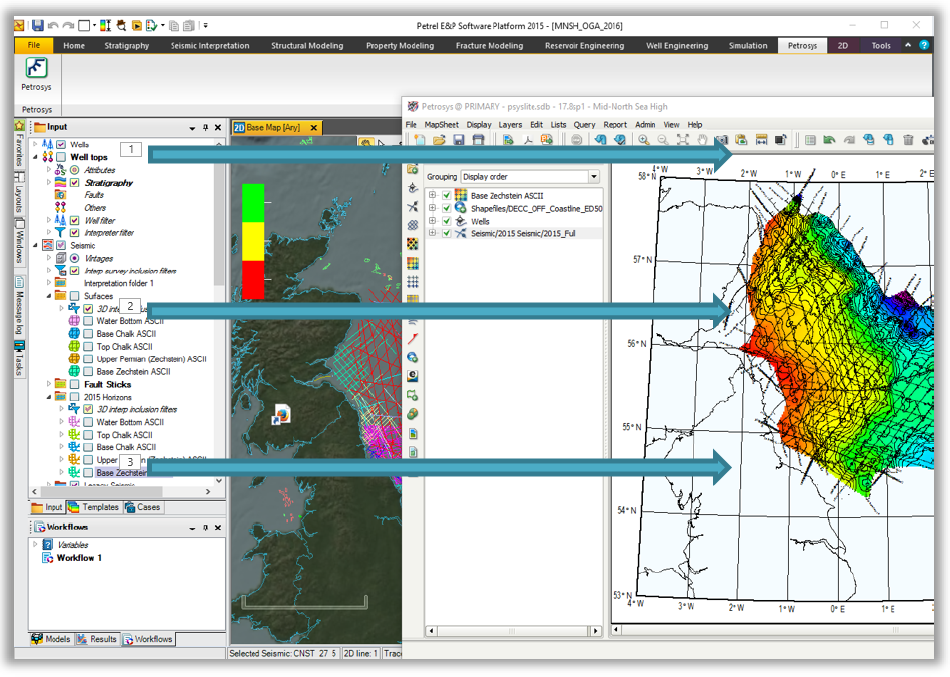 Drag and drop also works in Surface Modeling where well tops and seismic interpretation can be dragged straight into the Gridding Input Data panel. The Output Geometry and Faults tabs also accept data from Petrel via drag and drop. Well Checkshot Depth Conversion and Well Time Depth Trend Conversion dialogs are also supported.
Additionally, data can be selected by highlighting it in Petrel, then clicking on the blue arrow in Petrosys.
For more information
For a full list of the 17.8sp1 features, view the Release Notes, where you can also request a download. Alternatively, contact support@petrosys.com.au who will be happy to send you a link and installation instructions.