Dynamic Location Maps were introduced in Petrosys 17.8 and became instantly popular among users as this feature allows them to update automatically the location map as the AOI changes. This brought a significant reduction in time when dealing with the setting of location maps, as users no longer had to create a raster image to be used as the location map. If then the area of interest of the map changed, it would mean the user needed to recreate the raster image to capture this change.
It also brought the possibility not only to project the location map to the same projection applied to the map, but also provided the users the flexibility to apply a projection of their choice.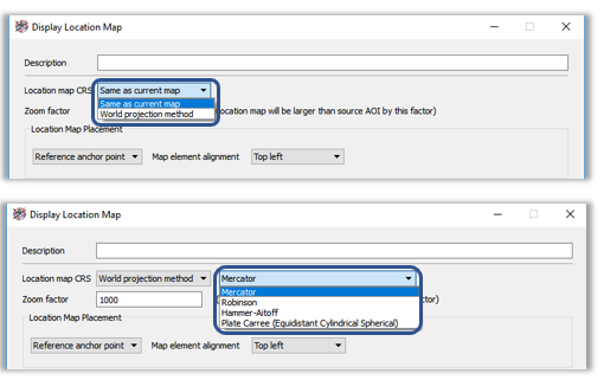 Dynamic Location Map CRS Options
In the following major release, Petrosys PRO 2017.1, we introduced the ability adjust interactively the area of interest rather than being based on a scale factor from the current map. This allowed the location map to be placed in the best position to indicate the position of the map relative to surrounding geography.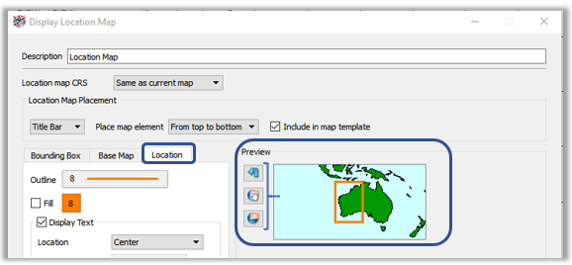 Interactive adjustment of area of interest for Dynamic Location Maps introduced in PRO 20117.1
With the release of the new Petrosys PRO 2018.2, users now have the possibility of setting custom backgrounds. In addition to the options already existing, users now have new options that allow them to customise the base maps to a style of their own. These new options are the following:
Location map templates: include dbm files or shapefiles placed in standard location to allow sharing between users.
dbm files: shapefiles and wms layers are supported
Shapefiles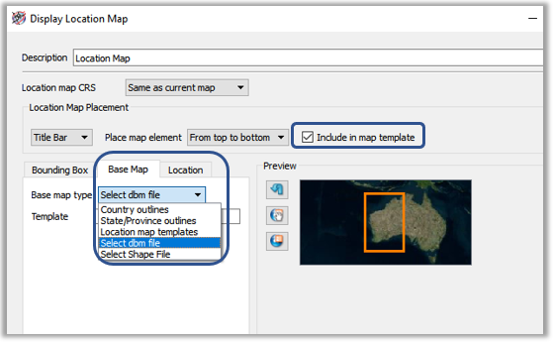 Base map types for Dynamic Location Maps, showing the new options in PRO 2018.2
As one example of a possible location map that can now be created with these improvements, a user could save a dbm with a wms layer on it and call it as the base map for the Location Map. Then by making the location map part of the Map Template saved at site level, this particular location map could be accessible to all the users across the site.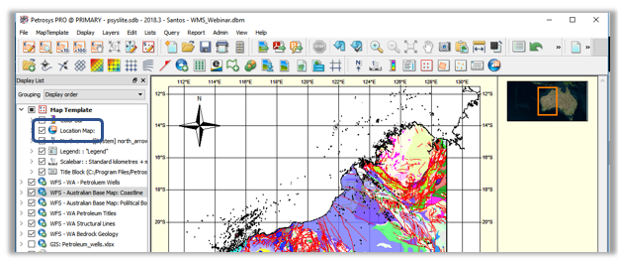 Dynamic Location Map included in the Map Template and featuring a wms layer
More info on how to work with Location Maps and other map elements in Map Templates can be found in the Learn section of the Client Portal.
You can also contact your local Petrosys office directly or by sending your queries to Support@petrosys.com.au.